Tristan Thompson Apologizes to Kylie Jenner For Kissing Jordyn Woods in 2019
Kylie Jenner and Jordyn Woods put their friendship on hold after that scandalous moment.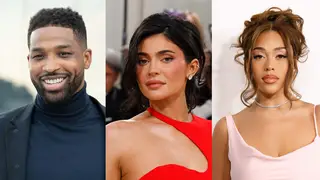 Tristan Thompson is coming clean with his past.
As this week's episode of "The Kardashians" wrapped, the audience was given a tease of what was to come, which is Thompson's overdue apology for one of his past indiscretions, as reported by Us Weekly.
"In this family, if you do something to one of us, it affects everyone," Khloé Kardashian was captured telling Thompson, with whom she shares daughter, True, 5, and son, Tatum, 1.
For Tristan, this is a transformative moment in his life. "I am in a place now where I can own up to the mistakes I've made," he uttered during the tease.
As Kylie Jenner prepared to have a one-on-one with Thompson, she admitted feeling "a little nervous."
Thompson and the Good American co-founder started dating in 2016, but dynamics shifted between the Kardashian family and him after it was alleged that he cheated on Khloé with multiple women while she was pregnant in 2018. Then, in 2019, he kissed Kylie's best friend Jordyn Woods.
Kylie and Woods' friendship was severely damaged.
In 2021, Jenner opened up on her decision to forgive Thompson and Woods for their part in the messy ordeal on a reunion episode of "Keeping Up With the Kardashians" in June 2021.
"I don't have any grudge against Jordyn. I think people make mistakes, people live, and they learn and I forgive both parties. How could I forgive Tristan and not Jordyn? That sounds asinine in my opinion."
Four years after that infamous moment, it seems a reconciliation is on the mend for the former besties. Earlier this year, the Kylie Cosmetics founder and Woods were spotted having dinner together in Los Angeles, per the outlet.
In July, a source told Us Weekly, "Kylie was the one to reach out to Jordyn. She missed her and felt enough time had passed and they wanted to meet up."
Another person Tristan is trying to bury the hatchet with is Kourtney Kardashian. During a confessional in that tease, she said, "Tristan and I really have not connected and I just can't fake it."
While grilling the Cleveland Cavaliers player, Kourtney asked whether he feels "anything" when he is unfaithful.
He replied, "When I cheat? I feel disgusted the next day," leading Kourtney to inquire "So then why do you do it again?"