7 Ways Beyonce's Coachella Performance Reminded Us To Stay Black AF
As the first Black woman headliner ever, Queen Bey is insurmountable.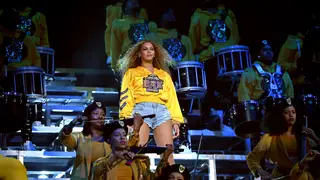 Among the assemblage of "Beychella" reviews, one particularly stood out in the same vain as worldwide megastar and songstress Beyonce's name did on the 2018 Coachella bill: New York Times' "Beyoncé Is Bigger Than Coachella."
Crowning the Queen Bey with yet another historical land marker of the first Black woman ever to headline California's most sought-after music and arts festival, the review travelled through her forcefully electrifying set from start to finish, bowing down at every sentence in adulation of Beyoncé. She has a way of making even the most profound and praiseworthy of words from such a reputable publication appear trivial beside her name.
The other scads of critiques, all lauding of her Coachella epoch, celebrated the queen similarly and within the framework of her radiantly revolutionary live aesthetics that locks fans to the front of her stages like magnets to refrigerators. The Beyoncé experience is an awakening, a metaphysical phenomenon if you will—there's never been any doubting that. But Beyoncé in her unapologetic, unyielding, uncensored Blackness is an entirely different sacredness.
"Coachella, thank you for allowing me to be the first black woman to headline," the Lemonade matron spoke over mountains of roaring Coachella goers. "Ain't that 'bout a b**ch?"
Accompanied by her Destiny's Child sisters Michelle Williams and Kelly Rowland as well as her hip-hop mogul husband, Jay-Z, Bey brought nostalgia and noir to an enticing middle ground. Her nonphysical star guests included the sound and spirit of Black history, which she washed over Coachella grounds with only the most eulogized of Black icons like Nina Simone and Fela Kuti. Fans lined up for registration at H-Bey-CU, Bey's spin to historically black colleges and universities, without even realizing it as she brought the HBCU experience to the festival, which held White attendance of 95.1 percent only five years ago, with a synchronized marching band and step squad.
Yes, Beyonce is Black, y'all. And for the festival's nearly 20-year existence, the queen gave Black America and diaspora seven reasons to throw up our fists, our middle fingers and anything else that encompasses the royalty, rage and reverence of Blackness.
Black National Anthem: 'Lift Every Voice And Sing'

HBCU Pride: Step Squad And Marching Band

Malcolm X's 'Who Taught You To Hate Yourself?'

Nina Simone's 'Lilac Wine'

Chimamanda Ngozi Adichie's 'We Should All Be Feminists'

Queen Nefertiti, or Queen NeferBEYti

And Fela Kuti's 'Zombie'

See the full Beychella experience below.