Pics And Video Of Michelle And Sasha Getting Their Life At The OTR II Tour Has Us Missing Our Favs
The former FLOTUS danced with Beyonce's mother while Jay-Z hit the stage.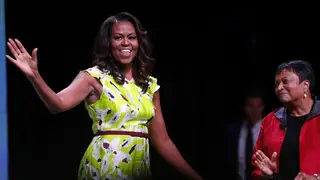 As Jay-Z and Beyonce continue the European leg of their On The Run II tour, they were joined by two members of our favorite first family in Paris.
After France triumphed in the World Cup, elated Parisians brought their energy to the highly anticipated show. Little did they know, Michelle and Sasha Obama would also be in attendance. 
The former FLOTUS received her own set of applause just for entering the venue

Later on, Obama and Tina Knowles danced along to Jay's performance

Sasha appeared up in the stands with her mother at a different part of the evening

While Beyonce and Jay-Z may have been the main attraction, people agreed that Michelle Obama stole the show