Megan Thee Stallion Wants To Do An EP With Jazmine Sullivan
"The men better go run and hide if me and Jazmine Sullivan do an EP," she said in an interview with 'Billboard.'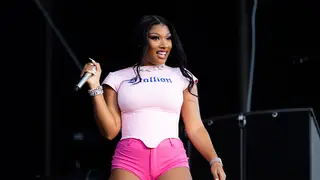 Houston rapper Megan Thee Stallion has a music collaboration up her sleeve and wants to tap on R&B crooner Jazmine Sullivan to make it happen.
In a recent interview with Billboard, the Houston hottie was asked who she'd like to do a Best of Both Worlds-type of project with to which she answered: Jazmine Sullivan.
"Me and Jazmine Sullivan would definitely have some stuff to talk about," Meg said.
"We'll have the girls crying, we'll have the girls screaming, we'll have the girls dancing, we'll have the girls sipping wine, [and] sitting in the backyard sipping cognac, but no [laughs]. The men better go run and hide if me and Jazmine Sullivan do an EP, so that's actually a really good idea. We need to get that in the works."
Last summer, the Heaux Tales singer commented under one of the Good News rapper's Instagram posts about wanting to collaborate.
"MEG LETS DO A SONGGGG," Sullivan wrote. "I can't dance, my knees are bad but I can sing sometimes! Lessgoo where my old knee heauxs at?? [praise hands emoji]."
While fans eagerly wait to see if a duet is in the works, Sullivan is getting ready to drop her Heaux Tales, Mo' Tales: The Deluxe on Friday (Feb. 11).