Megan Thee Stallion, Issa Rae Tapped For Twitter Manifestation Campaign
The popular social media platform wants to promote the power of positive thinking!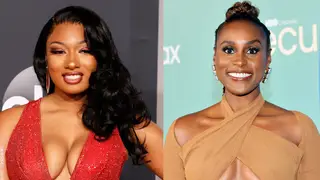 Twitter is proving to its followers that you might make your dreams come true if you manifest them in a tweet! On Tuesday (Jan.18), the social media platform launched its celebrity-led "manifestation" campaign that promotes the power of positive thinking in 280 characters or less.
Megan Thee Stallion, Issa Rae, and more are a part of the many Hollywood faces that once tweeted their dreams into reality. Now, their tweets are set to be plastered on larger-than-life billboards across the country, according to Billboard.
Twitter has also committed to donating $1 million to charities of the celeb's choice. Boys and Girls Club, Destination Crenshaw, The 3-D Foundation, and UNICEF Canada are already set to receive donations.
Take a look at some of our favorite starts manifestations tweets below: