Suicide Significantly Rising Among Young Black People 'In Crisis,' Report Shows
The analysis of data over three years reveals a disturbing trend in our community.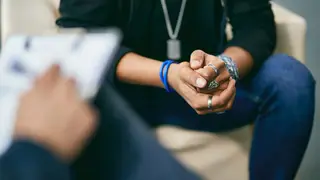 A new report shows a worrisome increase of suicides in 2021 after two years of consecutive declines, with a sharp increase in the suicide rate of young Black people.
Suicides among young Black people, aged 10 to 24, increased significantly from 8.2 per 100,000 to 11.2 per 100,000 – a 36.6 percent rise – from 2018 to 2021, according to the CDC's "Morbidity and Mortality Weekly Report."
There was a 5 percent overall increase of suicides among people ages 25 to 44. Blacks accounted for 22.9 percent of that increase, second behind the American Indian and Alaska Native group that saw a 33.7 percent rise.
The age-adjusted data showed that Black people saw a significant rise of 19.2 percent of reported suicides over the three-year period of 2018 to 2021.
Put into a larger context, age-adjusted 2021 suicided rates were highest among non-Hispanic American Indian or Alaska Natives at 28.1 per 100,000, who also had the highest relative percentage increase from 2018 to 2021 at 26 percent. During that period, Hispanics had a 6.8 percent increase. Whites were the only group to show an overall age-adjusted decline of 3.9 percent.
The CDC collected suicides data from the National Vital Statistics System multiple cause-of-death mortality files for 2018–2021.
In a separate CDC report released Feb. 13, titled Youth Risk Survey Behavior, researchers found that teen girls experienced high levels of violence, sadness and suicide risk in recent years.
The New York Times reports that the 10-year study, which analyzed adolescent health trends from 2011 to 2021, found that nearly three in five teenage girls felt persistent sadness in 2021 and one in three girls seriously considered attempting suicide. It also found high levels of violence, depression and suicidal thoughts among lesbian, gay and bisexual youth.
Black and Hispanic high school students were more likely to report skipping school over concerns about violence. At the same time, Black youths were less likely than other racial groups to report feeling sad and hopeless but more likely to report suicide attempts than white, Asian or Hispanic adolescents.
The CDC conducts the Youth Risk Survey every two years. For the most recent study, the researchers surveyed 17,000 adolescents at high schools nationwide in the fall of 2021. They've found a worrisome trend of adolescent mental health declining each year since 2011.
"I think there's really no question what this data is telling us. Young people are telling us that they are in crisis," Dr. Kathleen Ethier, CDC's head of adolescent and school health program, told The Times.