Jamaican Sprinter Usain Bolt Fires Business Manager Over Fraud Case
Authorities in Jamaica are investigating how $12.7 million disappeared from his investment account.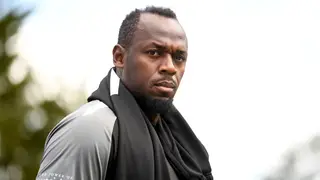 Legendary Olympic sprinter Usain Bolt has fired his business manager amid an investigation by Jamaican authorities into how $12.7 million of his money vanished from his account with a local investment firm.
Speaking Friday (Jan. 27) at a press conference, the Olympics star said he's baffled by the fraud and his split from his business manager was unamicable, ABC News reports.
"He was fired, that's pretty much all I have to say," Bolt told Observer Online. "It wasn't amicable… he was fired."
According to the Gleaner, another Jamaican newspaper, Bolt, an eight-time gold medalist, became aware of the missing funds on Jan. 11. His manager, Nugent Walker, told The Gleaner that a probe was launched after reports were made to Jamaica's Financial Investigations Division and Financial Services Commission, among other entities.
Bolt's attorneys have said his account with Stocks and Securities Limited, a Kingston, Jamaica-based firm, evaporated to about $12,000 in US currency. They gave the company until Jan. 27 to return the athlete's money or face legal action.
One of his lawyers, Linton P. Gordon, told the Observer the deadline expired and the legal team is discussing the situation with the Jamaican Financial Services Commission (FSC), which has taken control of the investment firm.
The extent of the alleged fraud is unclear because Jamaican officials have not yet disclosed how many people were affected or how much money disappeared from accounts. But according to an Observer investigation, at least 40 investment customers fraudulently lost money, totalling an estimated $3 billion.
Meanwhile, the Observer said it confirmed reports that Jamaican authorities contacted the FBI for assistance. ABC said other unidentified international experts were also contacted for help.
At the press conference, Bolt dispelled any notions that he is now penniless.
"I'm not broke, but it's definitely put a damper on me," he said. "It was for my future. Everybody knows I have three kids. I'm still looking out for my parents, and I still want to live very well."