Usain Bolt's Lawyers Demand Return Of $12.7M That Disappeared From Gold Medalist's Investment Account
The legendary Olympic sprinter threatens legal action against the company that's now under government investigation.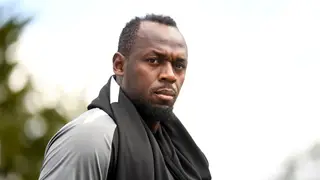 More than $12.7 million U.S. dollars vanished from Olympic sprinter Usain Bolt's account with a private investment firm in Jamaica. His lawyers are demanding answers and a return of the funds.
Bolt's attorney, Linton P. Gordon, told the Associated Press Wednesday (Jan. 18) that just $12,000 remains in the account that once had $12.8 million.
"If this is correct, and we are hoping it is not, then a serious act of fraud larceny or a combination of both have been committed against our client," the attorneys say in a letter they sent to the company, Stocks & Securities Limited (SSL), and shown to the AP.
The letter gives SSL 10 days to return the retired Olympian's fortune or face legal civil and criminal action.
According to The Gleaner, a Jamaican newspaper, Bolt, an eight-time gold medalist, became aware of the missing funds on Jan. 11. His manager, Nugent Walker, told The Gleaner that a probe was launched after reports were made to Jamaica's Financial Investigations Division and Financial Services Commission, among other entities.
A former SSL employee was implicated in wide-ranging fraud at the company that includes Bolt's account. The Gleaner later reported that, in addition to Bolt's funds, another $4 million in stocks and securities was reported missing from other accounts at SSL.
Jamaica's Financial Services Commission announced on Jan. 16 that it will appoint a special auditor to investigate fraud allegations at the Kingston-based firm. By the next day, government authorities assumed temporary management of the beleaguered company.
A statement on SSL's website reads, "We understand that clients are anxious to receive more information and assure you that we are closely monitoring the matter throughout all the required steps and will alert our clients of the resolution as soon as that information is available," directing clients to contact the commission for urgent questions.
"It is tempting to doubt our financial institutions, but I would ask that we don't paint an entire hard working industry with the brush of a few very dishonest individuals," Jamaica's finance minister, Nigel Clarke, said, according to the AP.