Twitter Is Dragging Sommore For Slamming Cardi B's Come-Up
The rapper and reality star already clapped back.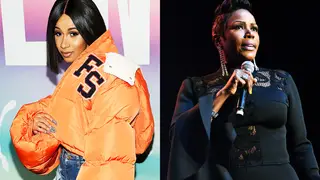 Cardi B is steadily on the rise to becoming the next big thing in hip hop. However, not everyone is a fan of her grind.
Famed comedienne Sommore fell into this category for many as she offered some unsolicited advice to the femcee, who quickly responded to her words.
The drama all started when the comedian posted a clip from the music video for Cardi's beakout hit "Bodak Yellow," supported by the caption, "Just cause you busy don't mean your [sic] winning.... You better be reading ya paper work! #Chandelierovahere."
Get more Cardi B news with BET Breaks, above.
Cardi B came across the extremely random jab and wasted no time in dishing out a lengthy response highlighting that by her proving her detractors wrong through her success, she is winning — not her "rags to riches" story.

She ended with these words directed towards the comic.

"I know you must be so busy and overbooked that finding the time to give me 'advice' was hard," she wrote. "But I talk to Christ and my mother everyday and I don't need it!!!"

Sommore eventually turned off the comments on her Instagram account after being dragged for her words. She has not yet responded to Cardi's clap back.

See how Twitter reacted to Sommore's "advice," below: