Chingy Isn't Endorsing Donald Trump for President Anymore
He walked back his support after Twitter barked at him.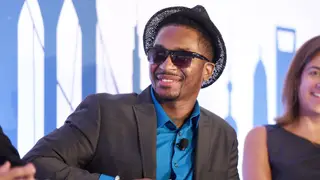 Chingy made headlines over the weekend when he tweeted his support for GOP frontrunner Donald Trump. Well, now he's backtracking that.
The St. Louis rapper took to Twitter soon after relaying his endorsement and walked back his support following his further research of Trump's controversial positions on immigration and civil rights. He also posted a video to YouTube, which explained even more of why he's not a Trump ally.
"I didn't know about some of the negative things he had to say about some of the races out here and about the hip-hop community," Chingy said in the video titled "I DO NOT endorse Donald Trump". "I didn't know a lot of the negative things, I was kind of commenting off reading that article and reading some of the good things that he said, so that's kind of where my comments came from.
"Every now and then I see some of it on TV," he continued. "I'm not familiar with exactly how it's going down. And that's another reason why I didn't know a lot of the negative things he said. Like a lot of people comparing him to Hilter and stuff and a lot of those things, I didn't know these things. So when I seen the good he said, I was like, Oh that's cool that Donald Trump be trying to do that."
Originally Chingy tweeted why he believed Trump was the best man for the job and seemed to insinuate that he was beyond just political figure. "Politics vs society," he wrote. "People should innerstand that politics is a business jus like the job you work at. I vote for @realDonaldTrump "YEP" 3."
BET.com is your No. 1 source for Black celebrity news, photos, exclusive videos and all the latest in the world of hip hop and R&B music.
(Photo: Mike Pont/Getty Images)