Chris Tucker Announces First Stand-Up Comedy Tour in Over 10 Years
"I'm excited to be back out on tour", said the comedian.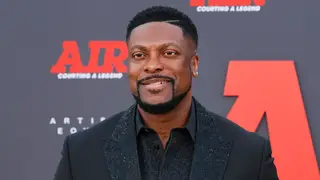 Chris Tucker is returning to his comedy roots on a new nationwide tour.
On Tuesday (August 8), Live Nation announced that the comedian will embark on a multi-city stand-up comedy tour, as reported by Rolling Stone. This will be Tucker's first tour since 2011.
The Legends Tour will sweep through 30 cities starting September 8 in North Carolina. The tour will also touch down in Memphis, Los Angeles, Cincinnati, Houston, and New York. It will extend through January 2024. Tickets will go on sale via Ticketmaster Friday, August 11.
"I started my career doing stand-up in comedy clubs and it's stand-up comedy that prepared me for all of my movie roles," Tucker said. "I'm looking forward to getting back to my roots. I love performing live, there's nothing like the energy of a live crowd and making people laugh.  I'm excited to be back out on tour."
Tucker stepped onto the scene in the 90s while making his rounds in comedy clubs and on HBO's Def Comedy Jam. He gained notoriety after starring in the 1995 classic comedy film Friday alongside Ice Cube, John Witherspoon, Nia Long and Regina King. During that era, he also starred in The Fifth Element, Jackie Brown, Dead Presidents and Money Talks.
After that, the comedian joined the Rush Hour trilogy with Jackie Chan. Earlier this year, rumors swirled about the duo reuniting for a fourth installment. In March, he told V-103's Big Tigger Morning Show that shooting Rush Hour 4 is definitely on his radar.
In 2015, he flexed his comedy prowess in his first Netflix stand-up special, Chris Tucker Live, filmed in his hometown of Atlanta, GA.
More recently, Tucker starred in the biographical sports drama Air that premiered in April opposite Viola Davis, Matt Damon, Jason Bateman and Ben Affleck, who also doubled as director.