Brittney Griner's Detention In Russia Extended Another Six Months As She Awaits Trial
The WNBA star was photographed handcuffed as guards escorted her to a closed-door courtroom hearing.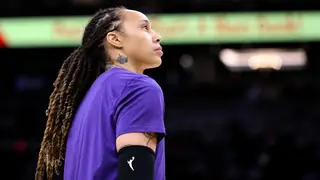 A Russian court on Monday (June 27) scheduled the trial of Phoenix Mercury WNBA star Brittney Griner to start on July 1, extending her detention for another six months, ESPN reports.
Griner was arrested in February at a Moscow airport for allegedly smuggling cannabis. But U.S. State Department officials have classified her as "wrongfully detained."
Griner's lawyer Alexander Boykov told CNN that the closed-doors hearing was scheduled to be held at the Khimki court just outside Moscow. A photograph shows Griner arriving handcuffed to the hearing, wearing a gray T-shirt and glasses, and escorted by guards.
Griner, 31, was first detained on Feb. 17 by the Russian Federal Customs Service at Sheremetyevo Airport near Moscow after agents said they discovered hashish oil vape cartridges in her luggage. An investigation by the customs service was allegedly opened and resulted in allegations of large-scale transportation of drugs, which can carry a 10-year prison sentence. Russian officials have extended her detention several times.
In May, the US Special Presidential Envoy for Hostage Affairs (SPEHA) and Roger Carstens, a State Department official, confirmed Griner is wrongfully detained.
Former White House press secretary Jen Psaki said the classification was made "in coordination with the hostage negotiator [Carstens] and the State Department."
She continued, "But typically, and I don't believe this will change, in order to, to leave the space to have an outcome we all want and desire, which is to bring her and any Americans detained or unjustifiably detained home, we typically don't talk about it extensively."
The odds of winning the trial are slim for the two-time Olympic gold medalist. Fewer than 1 percent of defendants in Russian criminal cases are acquitted, according to ESPN.