5 Eyebrow-Raising Lyrics From The Game & Kanye West's "Eazy"
Ye wants to control the sound of music (and the narrative) with this new track.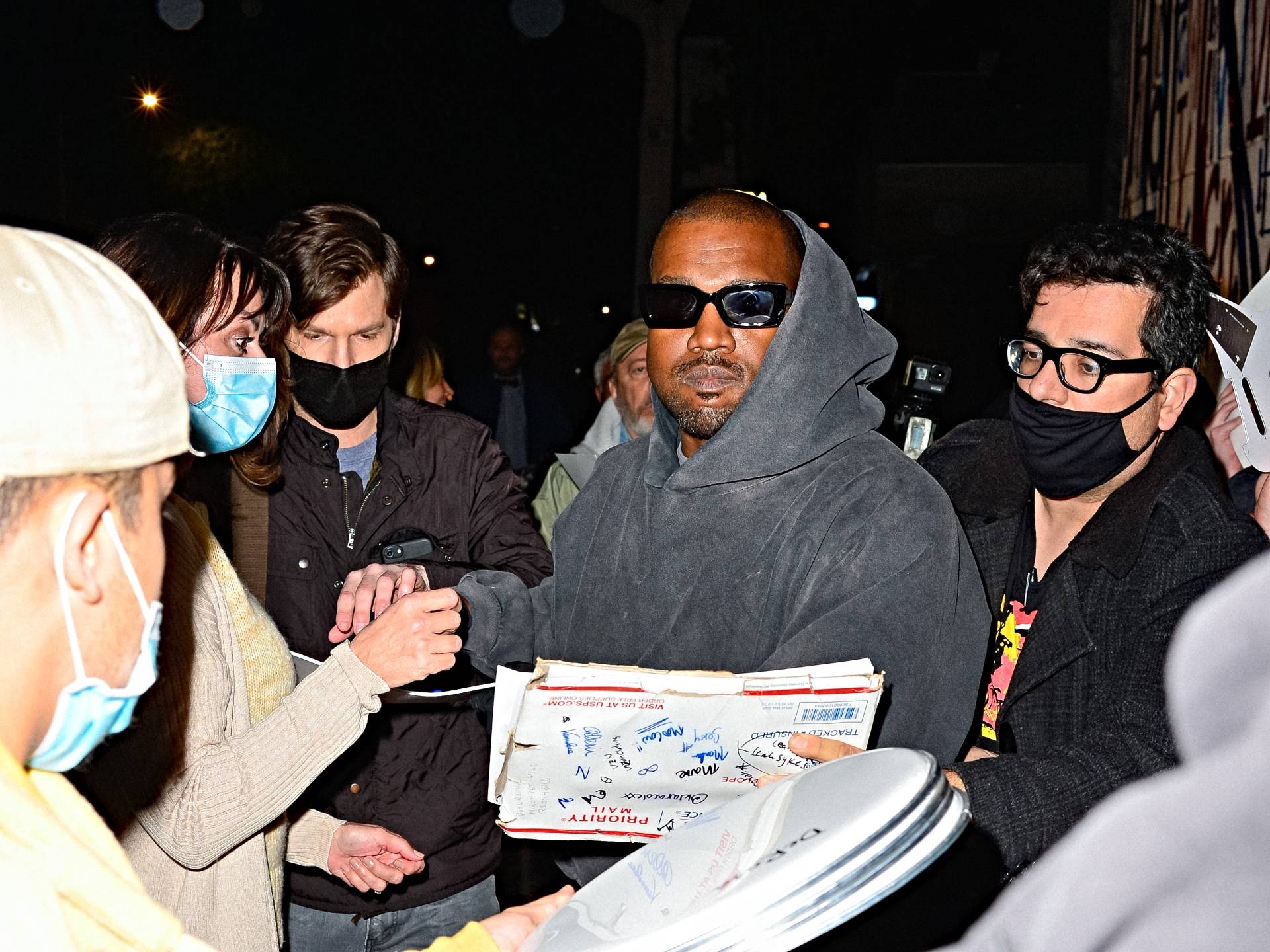 ---
2022 promises a few things for hip hop listeners:

1) No sleeping allowed and 2) Ye is looking to let God in more through his music.

The artist formerly known as Kanye West followed up on his numerous sneak peeks at his new song, "Eazy," featuring The Game, with the 24-hour Spotify-exclusive release of the track late Friday night.

With rumors of Donda 2 in the works, a video of Ye on a FaceTime call with DJ Premier was uploaded by designer Tracey Mills. During the chat, Ye asked the legendary producer if he'd be willing to add some scratches to the project. The song also samples Michel'le from the DJ Yella and Dr. Dre-produced hip hop classic, "Eazy Duz It" by Eazy E.
"We about to just control the sound of music," Ye said to Premier on the call, adding, "it's up to us now, period."

From there the process sped up with Ye posting the song's original title, "MY LIFE WAS NEVER EAZY" to Instagram, iHeart Radio's Real 92.3 then-debuting the collaboration on Friday, Jan. 14, and finally made exclusively available to Spotify for 24 hours until arriving to all DSPs later today (Jan. 15).

According to Genius, "Eazy" presumably belongs to a collaborative album between The Game and Hit-Boy, but Ye has murkied the waters a bit, saying that this song is for "all of our" albums, including Pusha T, who was also reportedly featured on the track.

"Life should be easy for everybody," The Game shared in a statement with Complex. "We make the choice to complicate it for ourselves and others. Change your perspective and change the world."

However you may react to the song, here are five eyebrow-raising lines we pulled from The Game and Ye's new offering.

Listen to the full song below and unpack your thoughts with us @BETMusic and @BET.
---
"How I ain't bring nothing to the table when I'm the table?!"
It's no secret that no one loves Kanye quite like Kanye. But with Ye sharing a peek into the back-and-forth happening in his pending divorce with Kim, the messy bar is sure to overshadow the reuniting of Ye and Hit-Boy after their much-publicized beef.
"'Mr. Narcissist,' tell me 'bout my arrogance / No more counselling', I don't negotiate with therapists."
Much news has been made about Ye's mental health and his own statements have made lines such as this ones that are re-shared on social media and turned into thinkpieces. You can see "I don't negotiate with therapists" popping up on T-shirts already.
"N***a, we havin' the best divorce ever / If we go to court, we'll go to court together / Matter of fact, pick up your sis, we'll go to Kourt's together."
Whether you subscribe to gossip sites, TMZ, or your favorite hip hop blogs, everyone knows about the drama happening between Ye and Kim. After making a public plea at last year's #FreeLarryHoover concert, now it seems that Ye feels the best move is an amicable end to their union.
"Noncustodial dad, I bought the house next door / What you think the point of really bein' rich for?!"
You can hear all the noncustodial fathers in the room whisper amongst each other about how much of a flex this bar is. Ye made headlines by buying a $4.5 million home across the street from Kim, but on "Eazy," he doubles-down on his family man efforts by asking this question reserved for the billionaires and co-parenting ballers.
"God saved me from that crash / Just so I can beat Pete Davidson's ass (Who?)"
Saturday Night Live comedian and writer Pete Davidson dating Kim Kardashian wasn't on anyone's 2021-2022 bingo card, and yet, here we are. The funny man may respond during the Jan. 15 airing of the live show, but for now, Ye has turned the hot goss into a hot line that will surely find its way into the pop culture lexicon.
Listen to "Eazy" on Spotify below:
Kevin L. Clark is a screenwriter and entertainment director for BET Digital, who covers the intersection of music, film, pop culture, and social justice. Follow him on @KevitoClark.