[Video] Duke VP Hits Parking Attendant With Car Then Calls Her 'Stupid N****R'
Students are calling for his resignation.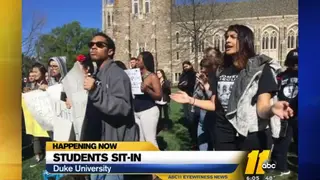 In the summer of 2014, before an Elon football game, the executive vice president of Duke University, Tallman Trask, found himself in hot water after he allegedly hit a parking attendant, Shelvia Underwood, with his car and then called her a "stupid n****r."
After the incident, the attendant filed a police report recounting the night. As the details began to unfold, Underwood claimed she felt pressured to back down from a lawsuit and accept a sincere apology from Trask.
Several weeks later, a handwritten note from Trask was delivered to Underwood by Kyle Cavanaugh, the vice president for administration. The note simply read:
"Dear Ms. Underwood, I very much regret the incident before the Elon football game. I should have been more patient and I apologize."
After the note was sent, an investigation by Duke's Office of Institutional Equity said it 'did not produce sufficient evidence to confirm' the racial epithet.
Well, last month Underwood filed a $100,000 lawsuit against Trask for the incident. The lawsuit accuses him of battery, negligence, civil conspiracy, and obstruction of justice.
When the suit was made public, it became very clear that Underwood's experience was not an isolated incident. According to former and current parking attendants for the university, there were "innumerable incidents" in which racial slurs, including the n-word, were used by members of the administration.
On Friday afternoon, nine students occupied the Allen Building on campus and called for the "resignations of Trask, Cavanaugh, and PTS director Carl DePinto."
There have been no remarks as to what actions towards the administrators will be taken; yet, students are hopeful that Duke will follow through.
One student, Laura Haft, said, "It's not in Duke's interest to arrest us and it's not in Duke's interest to have us in here for several months. There are thousands of supporters. All of Durham is on our side and the whole country will be on our side. We don't anticipate going anywhere."