Hold Up, John McCain! People Are Calling These Two Female Republican Senators the Real MVPs for Blocking the Obamacare Repeal
Senators Lisa Murkowski and Susan Collins have not received as much praise as John McCain.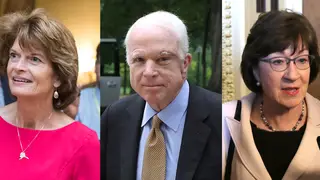 During a late night vote in the Senate, the GOP effort to pass a "skinny repeal" of Obamacare failed after three Republican Senators voted against it. Although John McCain's vote was the deciding factor, many are saying his praise is overshadowing the two women who voted no from the beginning. 
After voting yes to take the bill to debate, John McCain voted no on the latest repeal effort by the GOP

After his vote, many people came out and called McCain a hero

While some wanted everyone to pause and remember GOP Senators Lisa Murkowski and Susan Collins consistently opposed the bill

Sen. Susan Collins from Maine and Sen. Lisa Murkowski from Alaska both voted against the bill and have openly dissented the legislation from the beginning, despite the threats they've received from members of their own party. 

Several democrats have come out to speak on why the two female senators are not getting their proper recognition

The demand for Murkowski and Collins to be properly recognized soon became a trending topic

Eventually, the true fans of Murkowski and Collins came out to celebrate them as the real MVPs of health care