Is Kirk Frost's Alleged Baby Mother Using 'Their Child' to Extort Him?
There are new details on the messy situation.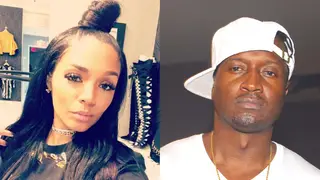 The baby mama drama involving Kirk Frost, his wife, Rasheeda, and the alleged mother of Kirk's love child, Jasmine Washington, just took an unexpected turn.
According to In Touch, a source claims that Washington has actually been conning Kirk this whole time and knows who the actual father of her son is, and it's not him.
The insider claims that Washington has been in a completely different relationship for more than a decade with a man named Logan, but she's been swindling Kirk for some time to get money out of him.
"Jasmine Washington, the woman who claims that Kirk is the father of her son, has had a boyfriend by the name of Logan for 11 years," the source claimed. "Logan's father, who passed away, was named Cannon."
The source went on to add that Rod Bullock, who is also Mimi Faust's ex, isn't just Washington's ex, but also her pimp.
"Rod Bullock, who is Jasmine's pimp and was recently released from federal prison, did not know that Jasmine was seeing Logan and himself at the same time," the source said. "Jasmine actually told Logan's mom that she was pregnant and she named her son Cannon after Logan's deceased father. She also admitted that Cannon is not Kirk's baby."
Though Rod wasn't aware of Logan during the time of filming, the insider claims that once he found out she was pregnant, he proposed that they "take advantage of this Love & Hip Hop opportunity."
"In upcoming episodes, this information will be revealed as Jasmine and Rod are trying to set up Kirk," the insider said. "Once Rod found out Jasmine was pregnant, he told her, 'Let's take advantage of this Love & Hip Hop opportunity.' However, he didn't know about Logan at the time. Jasmine then changed the spelling of her son's name to a 'K' because all of Kirk's kids' names begin with the letter 'K' after him."
Fans of the show can rest assured that this will all play out for the cameras as Washington is allegedly confronted by Logan in a future episode without prior knowledge.
"When Logan (the real father of the baby) shows up to film a scene about the entire situation, Jasmine is blindsided and runs out the room because she realizes he is about to blow up her entire false story," the source added. "Jasmine had no idea the producers dug up her ex-boyfriend."
If this is true, this could prove Kirk's innocence. Who do you believe?