Usher Responds To Possible 'Verzuz' Against Chris Brown
R&B artists Ne-Yo and Trey Songz could also be possible contenders!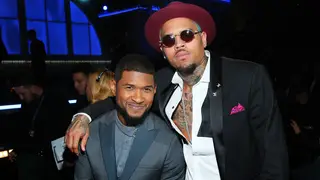 R&B heavyweight Usher is responding to the likelihood of his fans witnessing him take the Verzuz stage and who he would want to go up against.
In an interview with E!'s Daily Pop show, the distinguished artist and entertainer said that he would be open to going head to head with fans' suggestions like Chris Brown, Ne-Yo or Trey Songz. But in the same breath, confirmed that there is no Verzuz that is upcoming with his name attached.
"There was a flyer that was put together. It's not official, no, we're not doing that," he explained. "But I can appreciate what I see. Nah, there's no Verzuz. I don't think y'all ready for nothing like that. You might be ready for something like that on stage, maybe in the future. Stay tuned."
Fellow R&B crooner, Chris Brown, chimed in about the Verzuz chatter, back in June, when he stopped by the Drink Champs podcast and spoke about several possible match-ups including one with Usher.
"I would want to celebrate him and his life just as much as celebrating my stuff. … I can't act like he ain't a pioneer, as well," he said at the time.
In other Usher news, the 43-year-old is in the middle of an extended Las Vegas residency and recently appeared as the guest feature on the City Girls latest single "Good Love."