VERZUZ: The Battle Dream Matches We Can't Wait To See Live
Big Daddy Kane and KRS-One are part of the latest epic matchup to hit the stage, but here are six others that give us all the feels.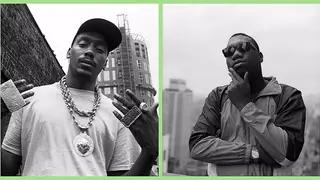 Katt Williams vs. Kevin Hart

Fat Joe and Ja Rule proved in their battle that New York was stepping into its hip hop footprint with both Timbs. With Big Daddy Kane and KRS-One scheduled to rock the Barclay Center, what better way to up the ante than to schedule a bout between two comedy titans. Katt Williams and Kevin Hart are certified box office behemoths who, when faced with the premise of spitting their 20 best jokes in front of a live audience, can captivate millions around the world and turn Verzuz into a tour de force to set off the fourth quarter.

Lil Kim vs. Megan Thee Stallion

Verzuz has always been a music fan's dream come true. In possibly seeing two hip hop icons live and in living color, a match-up between Queen Bee Lil Kim and Hot Girl Megan Thee Stallion is one not to miss. The bravado, the freestyles (see: Lil Kim's 1997 Funkmaster Flex freestyle), and the big performances on any stage of their choosing would give us a chance to witness a baton passing moment between hip-hop's two most fiercest MCs.

Missy Elliott vs. Pharrell Williams

The tagline for this Verzuz already writes itself, as this "celebration of Virginia's finest," would easily command the world's attention. Tickets would already fly off the handle for this fan-favorite marquee of Missy Elliott and Pharrell Williams. While this one could quickly descend into "& Friends'' territory, no one would pass up a chance to hear rare grooves, never-before-told stories, and creatively dynamic performances from these two masters of melody.

Mo'Nique vs. Sommore

After doing box office numbers with Williams vs. Hart, the stage would be perfectly set for the ladies to do their thang. Mo'Nique and Sommore are two Queens of Comedy, who have kept millions of fans captivated and cajoling thanks to their humor. In a time where we need to find the facts and the funny within our daily lives, seeing the Oscar-winning performer and the "Diva of Contemporary Comedy" dish on sex, money, Black love, and more would be right on time with all that's going on in the world.

Wizkid vs. Burna Boy

A heavyweight match of global proportions, chart-toppers WizKid and Burna Boy would be excellent teachers for a masterclass on why Afrobeat/Afropop is here to stay (and can only get better). Wizkid's "Made in Lagos" hit #1 on the Billboard World Albums chart, the longest for a Nigerian album and Grammy-winning talent Burna Boy would have more than just the diaspora in a panic for tickets. You can surely count on everyone who heard the Biebs on Wizkid and Tems' "Essence" remix to cop seats to catch all the vibes.

No Limit vs. So So Def

Everyone has gone to a Bad Boy vs. Def Jam party in their day. People are still pining for a Dreamville vs. Top Dawg Entertainment brouhaha in some form. But a spot between Southern super labels, No Limit Records and So So Def, would cement why the South had (and still has) something to say, and impact the next generation of creatives and executives. Master P and Jermaine Dupri have appeared — in one way or another — on Verzuz in the past, and seeing that '90s feeling return to a live setting is much-needed with everything that's going on.

Kevin L. Clark is an editor and screenwriter who covers the intersection of music, pop culture and social justice. Follow him @KevitoClark.