Whoopi Goldberg Sounds Off About Abortion Rights On 'The View'
The SCOTUS is currently hearing oral arguments about a Mississippi law over abortion restriction.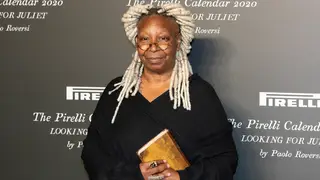 Whoopi Goldberg slammed pro-life advocates on Thursday, one day after the Supreme Court heard oral arguments about a Mississippi law – a case that could potentially overturn Roe v. Wade.
While co-hosting The View and after hearing audio clips from the oral arguments coming from Dobbs v. Jackson Women's Health Organization, Goldberg sounded off.
"The fetus has an interest in having a life and that doesn't change, does it from the point before viability to the point after viability?" asked Justice Samuel Alito, to which Goldberg reacted: "Do any of you men have any eggs or the possibility of carrying a fetus? How dare you talk about what a fetus wants! You have no idea."
Goldberg added that she doesn't believe the state should be able to make decisions about a woman's health.
"Now I'm fine if you disagree with abortion, I have no problem with that," she continued. "My problem comes when you tell me what I need to do with my doctor and my family. How dare you! How dare you!"
Watch Whoopi Goldberg make the comments below.