Kim Kardashian Is Wearing Cornrows She Calls 'Bo Derek Braids,' And Everyone Is Mad
At this point, she knows better but doesn't care.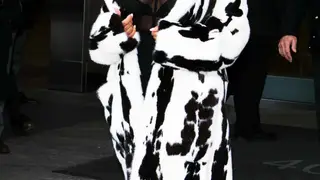 It's been a minute since Kim Kardashian & Co. wore the "boxer braids" that eventually got them in hot water.
And now that the water has since cooled down, it created the perfect opportunity to stir the pot. Over the weekend, a particularly ballsy Kimberly capitalized. Behold, Kim doing "Bo Derek braids."
By that, we literally just mean cornrows on a white chick. But in a decidedly Christopher Columbian way, the look, when worn so brazenly by a white girl, can take on a life of its own. And thus, beaded, braided styles when worn by white girls dying to look edgy can be referred to as having a "Bo Derek" look. 
Of course, this reference erases the entire origin of cornrows, which we all know hails from African hairstyles. Perhaps the ignorant part of this mess is that it makes it seem as though white people have ownership over this hairstyle — the very same hairstyle that, when worn by a Black person, somehow often curiously carries a negative connotation.
Unsurprisingly, the backlash was swift and plentiful. Many took to socials to condemn the appropriation — specifically, citing Bo Derek as having ownership over the style.
All of this, in light of the fact that she's a grown a** woman who should know better about the implications of thirsty flexes like these, considering she has three half-Black children.
Kimberly, you're on watch, sweetie. Don't make us cancel you.