Summer Walker Responds To Backlash Over Post Looking For 'White Or Gay' Assistant
The Atlanta singer also had required applicants be at least 25 years old and know how to "build stuff."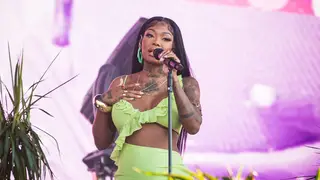 Summer Walker is defending a recent Instagram Story in which she made some specific demands for hiring an assistant.
The "Still Over It" singer made the job opening post on her @glctawhre IG account earlier this week, offering $2,000 a month for a male assistant who meets specific criteria. In the post, Walker was seeking applicants who are at least 25 years old, know how to "build stuff" and are "preferably white or gay."
The post caught flack from people on social media who complained about the type of person Summer was seeking, especially since many believed her two grand a month wasn't enough to be a celebrity's assistant.
On Monday (December 5), Walker fired back in an IG Stories post, which revealed that she hired a Black man for the position.
"If you don't know what you're talking about, then why are you talking about it?" she began. "I really would like to know that. 'Oh, $2K ain't enough, $2K ain't enough.' How do you know if it's not enough? I could have told somebody to come over here once a week and smell my a*****e and leave. How do you know it's not enough? Do you know the job description? Do you know the hours?
"I am on maternity leave, I'm not working. We have no shows, we have no club appearances, we have nowhere to go and nothing to do. I told somebody to come over here once a week to come take my f*****g trash out, s**t like that. Put some gas in my car, s**t I don't feel like doing. But that is not y'all business, I don't have to explain that to you."
Summer then addressed why she wanted a specific gender, race and sexual orientation for the then-open assistant position.
"And then to be talking about, 'Why a white man and why a gay man?'" she said. "I've always hired Black people. Everybody that works for me is Black. If I wanna hire a white person, y'all sound like y'all discriminating, what's the problem?
"I want a gay man 'cause I don't want nobody hitting on me and I wanted a white person, because honestly, you n****s, y'all know how n****s act. I'm honestly really tired, I'm really tired, but that's a different f*****g story."
She added: "How about we mind our business? I'm using this platform how I'm supposed to use it — for business. I ended up hiring a Black man and paying more than $2K, but still, the fact that y'all are really in my DMs harassing me about nothing that you know nothing about."
Additionally, Summer Walker revealed that it will actually be a $2,500 salary per month that she'll be paying her new assistant – which will require him to only work one day a week, running errands and other chores.
"Bottom line, y'all need to go out and touch grass," she said. "Y'all don't f*****g know what you're talking about, don't know me from a f*****g can of paint, and y'all out here writing think pieces in my DMs about shit that you have no clue about. I just blessed somebody, just got fucking $2,500-a-month to do f*****g nothing, once a week. F*****g take out my trash, f*****g bring in my groceries. The f**k, y'all really make my a*****e itch. I don't know how Beyoncé does it — she don't say s**t."
Listen to Summer Walker's response to the backlash below.