Report: Brad Pitt Under Investigation for Something Heinous
This is what happened that triggered Angelina to file for divorce.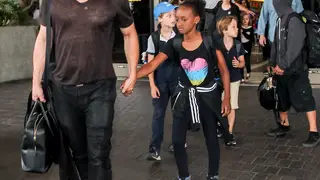 The Brangelina divorce looks like it'll be anything but amicable.
Just three days after Angelina Jolie and Brad Pitt announced their split, the mudslinging is in full force, and Angelina's latest claim against her soon-to-be ex-husband may be the worst yet. TMZ reports that Pitt is being investigated by the LAPD and the Department of Children and Family Services for child abuse after an incident that occurred on an airplane just days before the Oscar winner filed for divorce.
According to sources, Pitt and Jolie were on a private flight with their six kids last Wednesday, and the actor/producer got wasted. He allegedly "went wild, screaming and getting physical with the kids."
The rant allegedly continued on the tarmac, and Pitt even reportedly tried to ride home in the fuel truck. The incident triggered their separation and Angelina filed for divorce just days later, this past Monday.
TMZ reports that both Brad and Angelina have reportedly been interviewed by authorities already, and their kids will soon be questioned as well. However, the LAPD released a statement on Thursday morning saying no such investigation is taking place in their department. "LAPD is not handling any report or allegations into child abuse for Mr. Brad Pitt," the department declared in a statement.
Of course, it's possible that Child and Family Services is investigating the incident.
Either way, sounds like things are getting very ugly between these two. Get the full scoop on their split with BET Breaks, above.