Black And Streaming, Vol. 3: What Watch This Week On BET+ And More!
Films and shows starring the cast of 'The Best Man: The Final Chapters,' Mariah Carey, Naomi Ackie and more, need to be on your radar this week!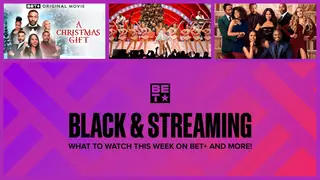 Tons of Black content is rolling out as 20222 is wrapping up and whether you are cozied ready to stream your favorite BET+ shows and movies or binge-watch the latest projects on CBS, Peacock, Netflix, and more! BET.com has you covered on what to tune into and what is coming up that you need to get your watch parties ready for!
For Vol. 3 of our Black and Streaming list, films, shows and television specials starring Mariah Carey, Nia Long, Taye Diggs, Naomie Ackie, Blue Kimble, Noree Victoria and more will become available from Tuesday (Dec. 20) to Friday (Dec. 23). 
Mariah Carey: Merry Christmas to All!

Tis the season! Mariah Carey is getting everyone in the holiday spirit with a special two-hour concert filmed in New York City at the Madison Square Garden arena. The festive event will feature the singer-songwriter as she performs a melody of her holiday hits, including the chart-topping  all-time favorite classic "All I Want for Christmas Is You."

Premieres on CBS on Dec. 20.

A Christmas Gift

This BET+ original film follows an expectant couple -- who are giving their relationship a second chance after being divorced -- host their family for Christmas despite a rapidly approaching due date.

Stars: Noree Victoria, Blue Kimble, Nadia Simms, Victoria Roswell.

Premieres on BET+ on Dec. 22. 

The Best Man: The Final Chapters

In this limited series, The Best Man: The Final Chapters, catches up with Harper, Robyn, Jordan, Lance, Quentin, Shelby, Candace and Murch as relationships evolve and past grievances resurface in the unpredictable stages of midlife crisis meets midlife renaissance, according to the official synopsis.

Stars: Nia Long, Taye Diggs, Morris Chestnut, Melissa DeSousa, Terrence Howard, Regina Hall, Harold Perrineau and Sanaa Lathan.

Whitney Houston: I Wanna Dance With Somebody

In this highly-anticipated biopic, fans will follow the story of the late legendary singer Whitney Houston, this inspirational, poignant, and emotional journey gets up close and personal with Houston's trailblazing life and career, with show-stopping performances and a soundtrack of her most beloved hits attached.

Stars: Naomi Ackie, Nafessa Williams, Tamara Tunie and Stanley Tucci.