Janet Jackson Is the New Face of Nutrisystem
Janet Jackson is the new face of Nutrisystem. The singer signs on to rep the weight-loss company.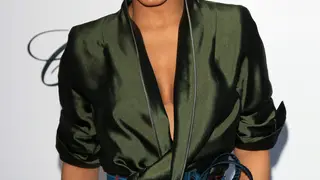 From Jennifer Hudson to Mariah Carey, Janet Jackson is the latest star to lend her name and image to a weight loss program.
Announced today, Ms. Jackson will be the new face of the weight-loss group Nutrisystem. CBS reports she will soon start appearing in ads. The campaign slogan is: "Janet Jackson got on it, and you can too."
During a Good Morning America interview, she says her problems with weight consciousness started when she was a kid when her brother Michael would tease her. While filming on the iconic Good Times, Jackson says the wardrobe woman bound her breasts one year because they were getting too big and she was told the next year to lose weight.
As a result, she joined Nutrisystem because she says she feels they help in maintaining to lose and keep the weight off.
In regards to Michael's daughter Paris soon acting in a movie, auntie Janet says, "I told her you should really take this time to enjoy your youth to its fullest. Cause you lose so much of your childhood in this industry."
Watch the GMA interview here.

BET.com always gives you the latest fashion and beauty trends, tips and news. We are committed to bringing you the best of Black lifestyle and celebrity culture.

 (Photo: Andreas Rentz/Getty Images)