EXCLUSIVE: Q&A With Robert Townsend
"The Mo'Nique Show" chops it up with legendary filmmaker/producer Robert Townsend.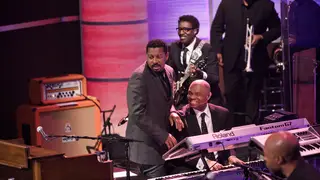 (Photo: Darnell Williams/BET)
Robert Townsend flexes his musical talents with band members on the set of The Mo'Nique Show.
With a career spanning close to four decades and no signs of slowing down in sight, Robert Townsend has managed to captivate audiences of all generations with thought-provoking work touching upon themes of family, race, class and sexuality. On July 19, Townsend joins his cast mates from the cult classic The Five Heartbeats for a special 20th anniversary reunion special. The TMS content team managed to speak to the celebrated director/producer and find out about the upcoming special episode.
BET: Coming off the BET Awards, how did it feel? What was the energy like?
Robert Townsend: We had ball. I mean, that was the first we had all been together in 20 awards [shows] because Harry was shooting, so he couldn't make the The Mo'Nique Show. So he was on video for the show. When we were at the Shrine Auditorium and had our first rehearsal it was one of the first times in, I want to say 21 years, because the movie came out 20 years ago but we shot it the year before. It was pretty crazy because it was like an outer-body experience because we were all kids making the movie and now we're like—we're still kids but we're men and it was really fun.
BET: The Five Heartbeats still has a solid cult following after all of these years. What do you attribute this too?
RT: You know, I think people love The Five Heartbeats because it speaks a lot about different issues: family, forgiveness, success. For me, when I initially was writing the script with Keenan [Ivory Wayans], it was about Do those singing groups have love in their lives? And can they survive? They're like a family, a marriage. I think people respond to the fact that they do get back together in the end. They're trying to work it out and they've had their ups and down and I think that's part of the magic to the movie.
BET: Your latest endeavor is In the Hive: What can we expect form this movie?
RT: In the Hive I'm really proud of. It was the opening night film down here at the American Black Film Festival. We had two screenings it was really well received. People were talking about Oscar buzz. I was like, "Really?" But I think the performances are really good in the film.
It's based on a true story of a woman in North Carolina, Vivian Saunders, who started an alternative school for all these boys that were being kicked out of school all across the county. And so basically she took in the gangbangers, the drug dealers—all these young kids that were at risk, and she used technology and computers to turn their lives around. It's a powerful story—it has a lot of drama in it but it has a lot of comedy because you always got to balance it out, it can never be just one thing. But people seem to really love it.
BET: So currently there's no official wide release?
RT: Not yet. Right now we're meeting with people that want to release the film. If anything we're probably going to release it small this year because people are thinking that it's Oscar worthy and you just have to be in two movie theaters.
And the cast—I'm really lucky to have the cast. It stars Loretta Devine, Michael Clarke Duncan, Vivica Fox and newcomers that he world's going to hear a lot from. It's my most edgy film and, it's kind of like, I don't want to say for this new generation what Boyz N Da Hood was or Menace II Society was because it's really about where the youth live right now and it hits some hardcore issues. I think the audience is going to really respond to it and it's going to lead to a lot of discussion.
BET: Whose performance stood out the most in your opinion?
RT: That's a hard question. From the newcomers everybody's talking about the lead guy: His name is Jonathan McDaniels. Jonathan plays the character of X. And then there's Kevo [Kevin Hendricks], who plays Courvoisier and people talk about him. And there's Jontille [Gerard], who plays Gem and people talk about her.
And then of the three leads they say Michael Clarke Duncan has never been better. This has been the best performance ever for Vivica Fox. She transformed in this movie, you won't recognize her. Her performance is out the box. Loretta Devine—she's solid always. All across the board there are some great performances. The audience went through the roof. It was beyond my expectation, the response to the film.
BET: How do you feel about the current trend of a lot of Black family shows being replaced by reality TV series?
RT: Well you know I got to tell you I really hate it. Reality shows bring out the worst elements in people. Kids want to act out and I'm concerned about the youth today. If you see enough people acting out, getting drunk, fighting, spitting on each other, it's going to make you want to do that. I grew up on shows that reinforced family values and manners and behavior. Now we're in time where people can't wait to see human train wrecks every night. I think it's adding to the breaking down of the fiber of morality in this country.
BET: How would you rank Robert Peterson next to other TV dads?
RT: It's so funny because at the time I was doing the Parent 'Hood my kids were really little and I was just beginning to understand the parenthood. I think on the show I was a good dad but...I'm a better dad [laughs]. I wish I could do the show all over again! I thought the show was really well done, but now I'm really dealing with the kids, behavior and life. I love it—I friggin' love it!But there are other lessons I learned as a man, now, that I wish if I was doing the show now I would share.
BET: BET's currently working on an Internet series 8 Days a Week starring your daughter, Skye. How do you feel about her taking on the actress role and following in your foot steps?
RT: I am so proud of Skye Townsend. You have no idea. That little girl makes me so proud. She has so much talent. She has so much drive. I have nothing to do with it—she said she wanted to do it. She just took the bull by the horns and she says 'Hey, I'm going to make my own way in show business.' I really love her and celebrate her because she always wanted to stand on her own two feet. I'm excited about seeing the show. She's told me about it. She walked the red carpet for the BET Awards with the cast and introduced me to the cast.
I was in the editing room working on my film while they were shooting so I didn't get a chance to go to the set and watch her. She's so talented and I just hope she makes a lot of money so she can buy me some stuff! [Laughs]I love her!
BET: Final question: Can we expect a sequel to Meteor Man?
RT: I love Meteor Man. At one point I was thinking I would get one of these kids to be son of Meteor Man and that I would come out of retirement and my son would have the gene.
I'd love to do another because I love stuff like that. There's some cats down here at the film festival that have come up to me and told me, "Meteor Man is my favorite" or "Parent 'Hood you were my dad." It's a beautiful thing. Meteor Man is special in my heart.
The show stars Monica Calhouns, Richard Roundtree, Billy Dee Williams, Leon and many, many more.