Heartbreaking: 'In the House' Actress Maia Campbell Caught on Camera Begging for Drugs
LL Cool J is trying to reach out to her.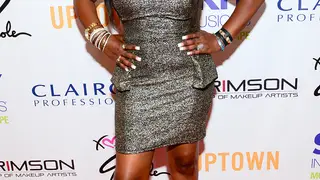 The combination of fame, mental illness and addiction has proven deadly for child stars time and again. Sadly, it looks like In the House star Maia Campbell is in a downward spiral once again.
A video was posted online over the weekend showing the former child star in her underwear at a gas station, asking for crack. Campbell, who has a history of bipolar disorder and has been arrested several times, appears to be in a bad place once again after a recent stint with sobriety.
In the video, Campbell is wearing simply a bra and underwear at a gas station in Stone Mountain, Georgia. During the video, which appears to have been captured by a male friend, Campbell can be heard to say, "I want some crack."
The video caused alarm from all corners of the internet, with folks voicing their concern for her well-being and safety. One of those is her former co-star LL Cool J, who took to Twitter to admonish the person who filmed Maia in the vulnerable state. He also asked for anyone who knew Maia's whereabouts to come forward to see could offer her help:
We're praying for Maia and sincerely hope Maia can get some help soon.
See more celebrity news with BET Breaks, above.