Killer Mike Says Free Speech In America Is 'At Risk' During Keynote Address
The Run the Jewels rapper says prejudice is at the core of it.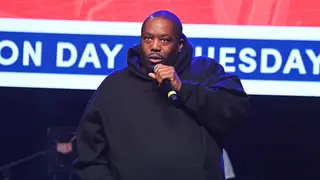 Killer Mike did some reflecting about free speech in America recently and issued a dire warning about it.
During a keynote address during a gala in New York on Tuesday (April 25), the Run the Jewels rapper said freedom of expression is an ongoing fight to maintain, not a settled right.
"I need us here to know tonight that there is no grand final winning of freedom of speech," he said. "There's no end of the race where we all hold up trophies. It is a constant and protracted struggle to make sure the rights to become a more perfect union are always striven for."
Mike told attendees at the 2023 Foundation for Individual Rights and Expression (FIRE) Gala to "vehemently advocate" for those they don't agree with, noting not to think about free speech from a selfish perspective, but from one that allows hearing people with opposing viewpoints.
"If we allow ourselves to express to one another our deepest and sometimes our darkest thinkings, we will eventually hear one another," the Atlanta native said. "Burn off the fat of prejudice, of racial injustice, of misogyny, of phobias, and we will get to a place where we make a better, a more perfect union. But that never happens if we're not allowed to speak, because if not allowed to speak we will not be allowed to hear one another."
FIRE is an organization that defends fundamental rights on college campuses and has recently broadened its mission to off-campus free-speech advocacy and legal defense.
"Right now, in this country, your freedom of speech is at risk," Mike added. "The government has no right to limit your freedom of speech, your freedom of religion, your freedom to assemble."
Watch Killer Mike's full keynote address below.