WATCH: These Two Black Men Were Kicked Out Of CVS And Police Were Called After Asking For Sliced Cheese
The store is now apologizing for the incident.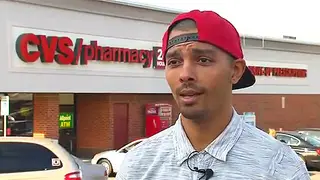 Be careful what you ask for, especially if you're at CVS and want sliced cheese.
Two men black men recently went to a CVS store in Richmond, Virginia and needed the dairy product. They asked one of the two store employees working at the time who then disappeared without warning.
Shortly afterward, the police showed up and tried to help find the two employees who ended up hiding in a storage room. Police did ask the two men, who are roommates, to leave the store.
Rick Barry and Phillip Blackwell's story was later told by ABC8 News. They told the network what happened from their perspective. The whole thing sounds questionable to say the least.
"Sliced cheese, all I asked for was sliced cheese," Berry told WRIC. "We looked around for probably 30, 45 minutes and we couldn't find anybody." Berry even claimed the police were laughing with the him and Blackwell during the employee search. "This is how weird, apocalyptic movies start," he said jokingly.
This is your America now, folks. CVS did appologize, but is it too little, too late? Check out what happened below.