'The Simpsons' To 'Family Guy': White Actors Who Have Chosen To Stop Voicing Animated Black Characters
Several Black actors are already shooting their shot for these prized gigs.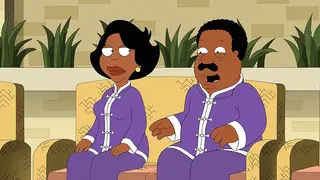 While Black actors often ask for diversity in front of the camera, there are tons of Black voice actors who are also asking for an equal playing field in front of the mic. Many are just now discovering the fact that some of your favorite animated sitcoms that feature Black characters are actually voiced by white people. Thankfully, that is changing.
Yes, we've come a long way since silent Franklin, the only Black kid who apparently had very little of substance to say during the various hijanks brought about by Charlie Brown and his friends in Peanuts. But as we're getting to know pretty quickly, Black characters don't always equal Black voices.
On June 27, TMZ and CNN reported that Mike Henry, who plays Cleveland Brown in "Family Guy," and in the show's spin-off, "The Cleveland Show," will no longer voice the character, which he has done since 1999.
Legendary actor Wendell Pierce is campaigning for the role instead saying on Twitter, "Now that Mike Henry has consciously given up the role of Cleveland, I am publicly starting a campaign to voice the role myself on The Cleveland Show." Once you see you, you actually wonder how this didn't happen any earlier. 
Several other white actors have started following in Henry's footsteps including Jenny Slate who provided the voice of the bi-racial character, Missy on Netflix's Big Mouth and Kristen Bell, who voiced another biracial character, Molly on the Apple TV Plus' Central Park. 
There are plenty of Black actors who are interested in adding legitimacy to these and other potential Black characters. Kerry Washington, who recently directed an episode of Insecure, wrote on Twitter, "Dear animators looking for black voices... I'm avail." 
Here's the list of the white actors who have made the choice to step down knowing it's simply the right thing to do. 
'Family Guy'

Actor Mike Henry has stepped down from playing Cleveland Brown, which he has done for 21 years.


'The Simpsons'

Actor Hank Azaria portrays Carl Carlson and Springfield police officer Lou. Additionally, Harry Shearer provided the voice of Julius Micheal Hibbert, M.D., better known as Dr. Hibbert, Springfield's most prominent, loveable and seemingly only doctor.

They both have stepped down from playing the characters, below:

See the montage of a handful of Black characters on The Simpsons from over the years. 

'Big Mouth'

Jenny Slate voiced the character of Missy on Netflix's hugely popular animated show, Big Mouth. Missy, who has a white father and Black mother, is a shy but spunky teen and the love interest of one of the show's main characters. 

Slate wrote in a statement that she was "engaging in an act of erasure of Black people" by playing the role and recently announced that she is stepping down.

'Central Park'

Kristen Bell played Molly on the  Apple TV+'s series Central Park. She wrote in a statement that "Casting a mixed race character with a white actress undermines the specificity of the mixed race and Black American experience."
She also added, "It was wrong and we, on the Central Park team, are pledging to make it right." 

See a clip of Molly below:

'Bob's Burgers'

Marshmallow is a Black transgnder character who is a good source of advice to Bob on Bob's Burgers. David Herman, a white cisgender man, has been voicing the character since Marshmallow's debut. He has said it is time for him to "do right" by the character and has stepped down.