Without Black People, There Would Be No Outspoken Athletes
This month learn how impactful our Black history has been on the world.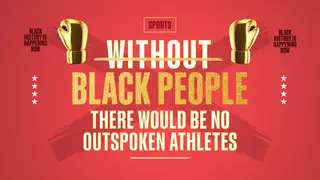 The phrase galvanised a nation to either the side of athletes who were fighting for equity and the end of systemic racism or those looking to dismiss the opinions of professional sports athletes.
However, the many stories that find athletes such as Muhammad Ali, Naomi Osaka, Arthur Ashe and others being outspoken about various injustices and issues has shown just how important it is to show the humanity within these athletes and the sports world.
For this year's Black History Month celebration, allow us to share just how much we'd all miss out on without Black people to make history look cool.
Without John Carlos & Tommie Smith, There's No Global Stage For The Black Power Movement

Tommie Smith and John Carlos were two San Jose State University sprinters who led the Olympic Project for Human Rights to support and organize for marginalized groups around the world. 

Their raised Black fists in unison, protesting while the U.S. National Anthem played, endearing them as athlete-activists who earned gold and bronze medals during the 1968 Summer Olympics. 

Without "The Cleveland Summit," There's No Athlete-Activist Push For Change

Muhammad Ali took a stand for human rights, protesting the Vietnam War and decrying against racism in America. 

The move spurred a discussion about the treatment of Black athletes as Jim Brown, Kareem Abdul-Jabbar, and Bill Russell held what would become known as "The Cleveland Summit '' to show solidarity with Ali. 

If this didn't happen, America wouldn't have a strong example of what collective unity towards change would look like.

Without Michael Jordan, The Rules On Endorsement Deals Aren't Rewritten

The classic Air Jordan shoe, the multi-million dollar signing deals with McDonald's and Gatorade — all wouldn't have been possible without Michael Jordan's electrifying performances. 

He changed the perceived value of Black athletes and made landmark strides in rewriting how athletes lent their name and likeness. Without #23, endorsement deals wouldn't have evolved into the now-era of sustainable and ethical partnerships.

Without Allyson Felix, Sportswear Companies Don't Advocate for Black Maternity

The plight of Black maternity in America is an issue that continues to plague the Black community. Allyson Felix, the history-making Olympic sprinter, led the charge to guarantee salary protections for pregnant athletes signed to sportswear companies. 

Without Curt Flood, There's No Free Agency In Professional Baseball

Professional athletes would be stuck to the team they first signed to at the beginning of their career unless traded if it wasn't for Curt Flood. Against the trade that would see him go from the St. Louis Cardinals to the Philadelphia due to a handful of reasons including belligerently racist fans, he likened his situation to slavery. 

Risking his professional baseball career, he sued the Major League Baseball organization and Commissioner Bowie Kuhn for $1 million. Despite losing the lawsuit and being blackballed from the MLB, without Curt Flood, the reserve rule would not have been struck down, allowing players to become free agents in their careers.

Without Colin Kaepernick, There Are No Civil Displays of Protest in Sports

The national conversation of police brutality wouldn't have become as mainstream as it did without Colin Kaepernick. In 2016, the former San Francisco 49ers quarterback began to sit down during the singing of the National Anthem. 

Then, his protest against police brutality evolved to taking a knee at the field. It sparked a national debate about race and police brutality in America that also, without Colin Kaepernick's efforts, would not have become a new standard on how to publicly protest in the world of professional sports.

Without LeBron James, The "I Can't Breathe" Protest Wouldn't Have Changed The NBA

It's no doubt that Lakers player and multi-hyphenate mogul LeBron James has become a leading voice in the fight for social justice nationally. 

Beyond being a known donor to presidential elections and helping fight against voter suppression, the Akron, Ohio native also helped facilitate real conversations in regards to the NBA's social responsibilities. 

No LeBron means the league wouldn't have stood behind concerted initiatives meant to champion voter and community engagement, and social justice issues.

Without Naomi Osaka & Simone Biles, Mental Health Debates in Sports Isn't Championed

The mental health of professional athletes wasn't a cause for concern within pop culture before tennis star Naomi Osaka and popular gymnast Simone Biles. Osaka refused to do a press conference before the 2021 French Open and was met with a polarizing response. 

Meanwhile, Biles took time off in the middle of the 2021 Olympic Games due to needing a mental break and even backed a mental health-based tech start up. 

The two put their health first and without them, mainstream culture wouldn't have seen how important mental health care is to many Black people in this country.

Without Bob Johnson, There's No Black Owner in Sports

BET co-founder Bob Johnson left the media world to fulfil a personal destiny: become a majority owner of a sports team. In 2003, he purchased the NBA's Charlotte Bobcats and the WNBA's Charlotte Sting. 

Since then, Johnson's move has inspired the idea of more Black ownership within sports, including Michael Jordan, who took over the now-Charlotte Hornets in 2010.

Without Wendell Scott, There's No Challenge to Racism in NASCAR

NASCAR has been mainly white for as long as the sport has existed. When Wendell Oliver Scott became the first Black person to win the Grand National Series in 1963, there was hope for more inclusion moving forward. 

Despite the ongoing issues within the sport, without Scott's win at the highest level of NASCAR's sport, the door to challenging racism within the industry would be harder for the likes of "Bubba" Wallace and Jesse Iwuji to break open.