Three Men Officially Charged In Connection To Mac Miller's Overdose
If convicted, the three men face a potential life sentence without parole.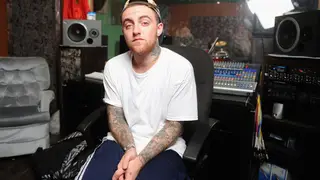 Federal prosecutors have officially charged three men in connection with Mac Miller's death last year on the grounds of providing the drugs that led to the rapper's unfortunate overdose. Previously, Cameron Pettit, 26, had been charged for selling Miller counterfeit drugs that resulted in his death.
Now, prosecutors have charged two additional men — Stephen Walter, 46, and Ryan Reavis Arizona, 36 — alongside Pettit with conspiring to distribute controlled substances that resulted in death and distribution of fentanyl resulting in death, according to the Associated Press. Walter will also face a third separate charge for the possession of ammunition as a felon. 

The new indictment, which was unsealed on Wednesday (Oct. 2), outlined how prosecutors believe the three men allegedly sold Miller counterfeit oxycodone pills that contained fentanyl.

The 26-year-old was found dead two days later in his Studio City home on September 7, 2018. The Los Angeles County Medical Examiner-Coroner later determined the Pittsburgh native had suffered an accidental fatal overdose of fentanyl, cocaine and alcohol. Investigators believe that the rapper died after snorting the counterfeit pills.

The court documents allege that Pettit, Walter and Arizona continued to sell drugs through August 2019, after Miller's death. In an alleged text message between Reavis and unnamed individual, Reavis wrote, "People have been dying from fake blues left and right...you better believe law enforcement is using informants and undercover to buy them on the street so they can start putting ppl in prison for life for selling fake pills."

If convicted, the men face a mandatory minimum sentence of 20 years in prison and the potential max for life without parole.

Pettit and Walter's arraignment on the new charges is slated for Oct. 10. Reavis will be arraigned once he is in Los Angeles. The 36-year-old was arrested last week in Arizona and is currently being transported to L.A by the Marshal Services, according to the Rolling Stone.