Family Matters: Check Out Books By Viola Davis, Gabrielle Union And More To Read This May
Here are five books with characters whose journeys of self-discovery and healing may lead you to finding your own.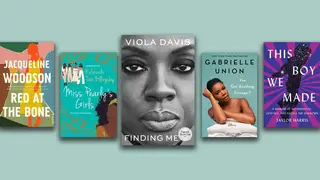 There are many reasons to love May, including warmer days, comfortable nights, the start of the gardening season, celebrating moms–those who gave birth to you, adopted you, or that special aunt, stepmom, or nurturing mother figures– and of course, paying better attention to our mental health.
There are many books that celebrate relationships, and the best ones tend to be about the multilayered complexity there is within families. Reading them can sometimes help us see the commonalities that we all share and maybe work through some of our own unresolved issues.
To that end, we have curated a list of books this month that feature the relationship of mothers, fathers, and their children all with deep familial bonds from the perspective of Black  women authors.
The incomparable Viola Davis released her memoir, "Finding Me", at the end of last month (Apr. 26), and it can be summed up in four simple words: wow, honest, raw, and beautiful. And to be frank, those terms barely capture this much-awaited book. So far, it is an Oprah Book Club pick, called Harper's Bazaar's best book, and both Parade and Marie Claire declared it their most anticipated book. Although the memoir introduces you to a young Viola who lived in extreme poverty as a kid, dealt with the heavy hand of colorism and racism, and watched her father abuse her mother, readers will walk away profoundly moved by discovering the source of her strength and how that perpetuates throughout the years to follow.
After reading this book, it will become evident why the Oscar winner and mom of one can dig so deep within herself and emote as well as she does on-screen. There are a slew of intense moments in the book where you will want to reach in and rescue her. She is bullied and made fun of, and at times Davis, along with her five siblings, is without the bare necessities to eat or stay warm. They attend school sometimes unwashed, wearing dirty clothes. It's this and other gritty, brutally honest details that will prevent you from wanting to put this memoir down.
Actress Gabrielle Union released her memoir-in-essays in 2017, "We're Going to Need More Wine" which detailed her experiences with sexual assault, racism, and her struggles with infertility and desire to become a mother. Fast forward to Sept 2021, and her follow-up, "You Got Anything Stronger?" is just as open. Readers get all the details behind Union becoming a mother by using a surrogate to have her daughter, Kaavia James Union Wade, her depression, and her experiences in Hollywood. Every transparent chapter reveals, not only how she works to balance motherhood, her career, her friendship, and her marriage to former NBA player Dwyane Wade, but also a journey of self-discovery.
"Miss Pearly's Girls" is a captivating fictional drama by bestselling author ReShonda Tate Billingsley, which introduces us to the book's namesake who raises four daughters in rural Arkansas as a single mother. Her children, unfortunately, have a fragile relationship with each other and ultimately left where they grew up with no intentions of returning to the place that holds their secrets. When their mom Miss Pearly becomes terminally ill, they are all forced to come back together to deal with the obstacles that once tore them apart. Although this is a work of fiction, "Miss Pearly's Girls" teaches how detrimental some secrets can damage love, family and relationships.
At the heart of Jacqueline Woodson's novel "Red at the Bone" is love and family against the backdrop of the horrific Tulsa Race Massacre in 1921. There are two Black families at opposite ends; one that is headed by a struggling, single mother and another by a well-to-do couple. Their lives become embroiled as teenagers from both sides of the family get together to conceive a child. This is a modern day Romeo and Juliet set within poetic prose detailing issues of class, race, education, sexual identity, desire, mother-daughter relationships, and parenthood.
Taylor Harris, a Black mother, faces every loving parent's fear when her once lively 22-month-old son Tophs wakes up listless one morning. She hurriedly takes her baby to the doctor hoping that she's just overreacting. Unfortunately, each time one issue is resolved with Tophs another arises.
As Taylor spends endless hours trying to find out what is wrong with her son, an appointment with a geneticist eventually leads to a revelation about her health. Harris' "This Boy We Made" is a searingly honest biography that portrays the unbreakable bond of a mother and a child in the face of the unknown.