Bakersfield Man Who Killed Black Protestor With His Car Didn't Face Arrest Or Charges
Kieth Moore plowed into Robert Forbes, who died in the hospital three days later.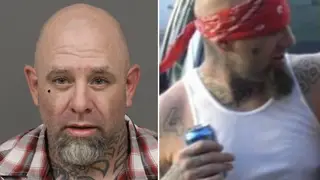 Robert Forbes, the man who was hit by a white man in a car while protesting Wednesday night, has died, Bakersfield Police confirms. The department also confirms that Kieth Moore, the man who hit him, has not been arrested and will not face charges.
The horrific incident was caught on video and went viral on social media. [CONTENT WARNING: Graphic Images]
According to his family, Forbes was brought to Kern Medical Center, where he remained in critical condition for three days. He died Saturday morning.
"When we got to Oak and California, everybody was marching. (Forbes) went to the sidewalk and got on his knees," recalled Jay G, a witness to the collision. "Next thing you know, we all hear a car, and we all look, it's a car with its lights off that hits him."
However, Bakersfield Police sergeant Nathan McCauley, disputes the eyewitness's account, saying, "(Forbes) was in the roadway at the time he was struck… To address for the rumors, the driver's headlights are clearly on."
According to KGET, Moore was not handcuffed, and was allowed to smoke a cigarette while police officers shielding him from protesters.
"It shouldn't take that long to get a man who just admitted in front of everybody, even to the cops, 'I did it. I hit this man. I didn't see him. Accident or not, I hit him.' So why wasn't he detained? Why was he able to smoke a cigarette?" the eyewitness said.
According to some, Moore has visible tattoos that indicate his affiliation with white supremacist movements. This has not been confirmed:
"I think the driver hitting him was intentional," says Forbes' sister Espinola Parker.
She adds, "I hope (my brother) gets his justice. I hope an arrest comes because this guy is smirking while he's smoking his cigarette, not realizing he killed a man here that somebody loved, somebody cared for, somebody's son."
"It's not a practice of the biggest police department, or any law-enforcement agency that I'm aware of, to handcuff and put people in patrol cars that are involved in traffic collisions," Sergeant McCauley said.
In an initial statement Thursday, the Bakersfield Police Department said, "There was no report of the driver accelerating or making movements to indicate he was targeting the pedestrian… At this time, the primary collision factor appears to be the pedestrian walking in the roadway outside of a crosswalk."
Officers added that they ruled out speed, drugs, and alcohol, so they released the driver the night of the collision.
Sergeant McCauley clarified, "The investigation is open. It has never been closed despite rumors that say that."
"I just hope everybody that knows anything about this case comes forward with it," Espinola said, "because if not, just like with George Floyd's case, it's going to keep being this way."
Moore himself made a statement about the incident on Facebook. In a since-deleted post, published by BakersfieldNow.com, Moore claims that he was swerving to avoid a DUI checkpoint, and didn't know there was a protest going on. "I WILL TAKE THIS TIME TO WHOKE HEARTEDLY [sic] TELL THE FAMILY OF ROBERT FORBES THAT I DID NOT OR WOULD NOT EVER RUN INTO OR HIT ANYONE WITH MY CAR," he wrote, in all caps. "The thing that gets me the most is that people say they seen me turn my light out and accelerate ... im srry didn't mean to hit this guy injure him any thing."
Here is BPD's full statement from Saturday night, where they answered questions on the investigation: