9-Year-Old Victim Dies After Getting Trampled at Astroworld Festival
The family of Ezra Blount confirmed the news of his death on Sunday after he sustained life-threatening injuries at Travis Scott's Astroworld Festival.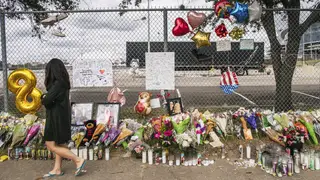 After 9-year-old Ezra Blount was put on life support after getting trampled on at Travis Scott's Astroworld Festival, his family confirmed that he had died on Sunday (Nov. 14).
The death toll of the concert has now risen to 10.
Attorney Ben Crump, representing the Blount family, said, "This should not have been the outcome of taking their son to a concert, what should have been a joyful celebration. Ezra's death is absolutely heartbreaking. We are committed to seeking answers and justice for the Blount family. But tonight we stand in solidarity with the family, in grief, and in prayer," in an official statement obtained by KTRK ABC13 Houston.
On Friday (Nov. 12), Ezra's father, Treston Blount, spoke to the outlet to describe the horrific night which left his son in a medically-induced coma and on life support for over a week.
"He was stoked. He was ready to go," Blount shared with the outlet. "When I found out that he was a big fan [of Travis Scott], I was like, "Oh yeah, we gotta go, we gotta go see Travis live."
The father and son chose to stay further away from the stage and in the back of the crowd, Treston confirms. He had his son propped up on his shoulders during the concert.
But once the concert got out of control, Treston passed out from the crowd's pressure, and that's when Ezra fell and was trampled on, according to ABC13. After Treston regained consciousness, his son was already transported to the hospital with significant organ damage and brain swelling.
On Tuesday (Nov. 9), the Blount family filed a lawsuit against Travis Scott, citing "grossly negligent conduct" that was a result of Ezra's injuries.
The suit "alleges negligence in a great number of aspects, including crowd control, failure to provide proper medical attention, hiring, training, supervision and retention," according to a press release issued by attorney Ben Crump and co-counsels Alex and Bob Hilliard.
Nine other concertgoers have died from injuries sustained at Astroworld, including Jacob Jurinek, 21; John Hilgert, 14; Brianna Rodriguez, 16; Franco Patiño, 21; Axel Acosta, 21; Rudy Peña, 23; Madison Dubiski, 23; Danish Baig, 27; and Bharti Shahani, 22.