BET Awards '20 Hosts: Where Are They Now?
Take a look at what your favorite BET hosts have done since taking over the BET Awards stage.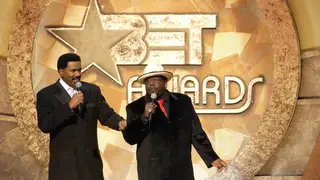 The 2020 BET Awards are coming up on June 28th at 8 pm EST and we can't wait to announce more details about the show! We hope to sprinkle a bit of joy in your lives as we all deal with the global COVID-19 pandemic and the political upheaval prompted by yet another Black man dying from police brutality. (RIP George Floyd)
Please enjoy this list of past BET Awards hosts and what they've been up to since they hosted the show.
Steve Harvey and Cedric the Entertainer (2001 and 2002)

Comedians Steve Harvey and Cedric the Entertainer tag teamed for the first two BET Awards ceremonies in 2001 and 2002. Since then, the Kings of Comedy (literally) have done quite well for themselves. Cedric the Entertainer starred in several hit movies, including the Barbershop franchise, put his voice-acting skills to use in the Proud Family and Madagascar movies, and snagged his own tv show called The Neighborhood. It's impossible to miss what Steve Harvey has been up to over the past 20 years. Harvey has hosted numerous television shows/events such as Family Feud, Little Big Shots, and the Miss Universe pageant. He's also been on the production side for a few of his projects like the Think Like a Man movie (based on his best-selling book) and his eponymous talk show.

Mo'Nique (2003, 2004, and 2007)

Mo'Nique has hosted the BET Awards more than anyone. The execs must have liked her because she went on to have her own late-night talk show (an extremely rare feat by a Black woman). Mo'Nique then really outdid herself by winning a Best Supporting Actress Oscar for her work in Precious. Earlier this year, her comedy special Mo'Nique & Friends: Live from Atlanta aired on Showtime.

Will Smith and Jada Pinkett Smith (2005)

Often included on power couple or Black love lists, Will and Jada were a no-brainer as a dynamic duo for hosting. Both have continued to find success post their hosting gig. Will starred in numerous blockbuster films such as The Pursuit of Happyness (Oscar nomination for Best Actor), I Am Legend, and Bad Boys for Life. He's also become an Instagram superstar. Jada has been in her own bag as well. In addition to starring in two Gotham and Hawthorne, Jada also flexed her acting chops on the big screen with Girls Trip and she has an award-winning Facebook Watch show with Red Table Talk.

Damon Wayans (2006)

Coming off of his hit television show My Wife and Kids, Damon Wayans kept the jokes coming for his 2006 stint as the BET Awards host. Afterward, Wayans starred in the Lethal Weapon tv series and kept busy with writing and production credits for numerous projects.

D.L. Hughley (2008)

Funnyman D.L. Hughley is no stranger to hosting before and after his BET Awards gig. Hughley has since guest-hosted Who Wants to Be a Millionaire and helmed his self-titled radio show. He is also a writer with several books under his belt, including one about Barack Obama. Fun fact: Hughley competed on Season 16 of Dancing with the Stars.

Jamie Foxx (2009 and 2018)

Jamie Foxx is the only BET Awards host who earned an Oscar (Best Actor in 2005 for Ray) before his hosting job. Since his time on the BET stage, Foxx has starred in a slew of big movies like the instant classic Django Unchained, Baby Driver, and Just Mercy (he was robbed of that Oscar nom). Foxx also snagged a Grammy in 2010 for "Blame It."

Queen Latifah (2010)

The Grammy-winning, Oscar-nominated rapper/singer/actress/producer has talent that knows no bounds, so it comes as no surprise that her career has kept ascending since her BET Awards hosting in 2010. Her extremely adorable movie Just Wright came out that same year and she went on to star in Bessie, The Wiz Live!, Girls Trip, Star, and the Netfilx series Hollywood. Queen Latifah is also building affordable housing in her hometown of Newark, NJ.

Kevin Hart (2011)

Kevin Hart was the master of ceremony for the 2011 BET Awards. After successfully pulling off that gig, Hart took on considerably larger in-person audiences by going on sold-out stadium tours, becoming the first comedian to headline an NFL stadium. He's also starred in Night School, Think Like a Man, been in popular stand-up comedy specials, and has done a zillion movies with the Rock.

Samuel L. Jackson (2012)

Samuel L. Jackson, known for his stellar cussing ability, is one hard-working man in Hollywood. He has 191 acting credits listed on his IMDB page, so ticking through everything he's done since hosting the 2012 BET Awards would keep us here all day. A few highlights: Jackson has starred in Shaft, The Banker, and several Marvel movies (as Nick Fury).

Chris Tucker (2013)

Chris Tucker's distinctive voice and comedic sensibilities have kept audiences cracking up for 25 years. (Yes, it's been that long since Friday came out) Since 2013, Tucker has made appearances on numerous shows such as Jimmy Kimmel Live, the Late Late Show with James Corden, and Silk's Unsung episode. Tucker also hosted the 2020 Urban One Honors.

Chris Rock (2014)

Back to back Chrises! Chris Rock is another funnyman with a distinctive voice. Rock's comedy Top Five was released the same year as his BET Awards hosting. After that, Rock had a surprising role on the hit show Empire, appeared in Dolemite is My Name alongside Eddie Murphy, and executive produced The Rundown with Robin Thede. The Brooklyn native also released a new stand-up comedy special called Tamborine.

Tracee Ellis Ross and Anthony Anderson (2015 and 2016)

Tracee Ellis Ross and Anthony Anderson are an on-screen couple on the critically-acclaimed tv show black-ish. It's no wonder they were tapped to host the BET Awards two years in a row. Since that time, Ross has won a Golden Globe for her black-ish work, has a new movie out right now with Ice Cube called High Note, she launched a haircare line called Pattern that folks are loving and she narrates a new spin-off called mixed-ish. Plus, she's a hoot on Instagram. Anderson has snagged an NAACP Image Award for black-ish and both actors have appeared on another spin-off, grown-ish.

Leslie Jones (2017)

Leslie Jones was one of the few Black women who counted themselves as cast members on Saturday Night Live, a much sought after gig for any comedian. Since her time hosting the 2017 BET Awards, Jones has parted ways with SNL. She has served as a guest judge on Project Runway and Rupaul's Drag Race and she has a role in the highly anticipated Coming to America 2 movie due out in 2021.

Regina Hall (2019)

Last year's BET Awards host Regina Hall was fresh off of the release of her film Shaft that year, which also starred Samuel L. Jackson. Hall co-hosted the BET COVID-19 Relief Special and she continued her role in the second season of Black Monday. Like many actresses, several of her current and upcoming projects have been delayed due to the global pandemic.