Bobby Brown Says Whitney Houston Made The First Move, In A&E Documentary
"I remember that night like it was yesterday," he shared.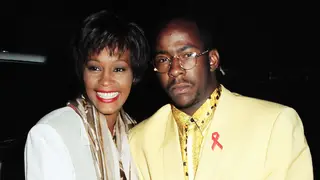 Bobby Brown is laying it all out there in his new two-part documentary and has taken folks down memory lane, especially when his late ex-wife and R&B songstress Whitney Houston.
During Part 1 of Biography: Bobby Brown, which premiered on Monday (May 30) on A&E, the R&B entertainer gave viewers a few details about his romance with Houston and how it began at the 1989 Soul Train Awards. He later shared that the "I Will Always Love You" singer showed that she was interested in him first and made it known backstage at the awards show.
"I remember that night like it was yesterday," Brown shared saying that he fell in love that night.
The 52-year-old shared that after he performed "My Prerogative" on the awards stage, he headed backstage, where he ran into Houston.
"Whitney walked up and was bumping me. She just kept bumping me," he added. "I turned around and I said, 'You know you keep bumping me.' She said, 'I know.'"
"From there it was just love at first sight," he continued. "Something about her eyes made me melt inside. I said, 'If I ask you on a date, would you say yes?' She said, 'Of course.'"
Not missing a beat, the pair went on their first date the following day and enjoyed shopping together in Beverly Hills, having dinner at The Ivy, and later concluding the evening where they "just chilled."
Brown and Houston would later marry in 1992 for 14-years before officially ending their marriage in 2007. Whitney Houston would later tragically pass away in 2012.
Don't forget to stream Part 1 only on A&E and tune into Part 2 of Biography: Bobby Brown, premiering on Tuesday (May 31) at 8:00 p.m. ET.