Philadelphia Event Focuses On Keeping Civil Rights Movement Stories Alive
Former U.S. Ambassador Andrew Young and other icons commemorated 10 years of Comcast's 'Voices of the Civil Rights Movement.'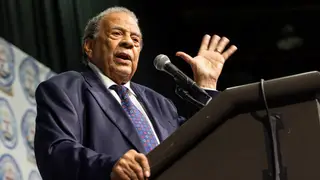 As he sat on stage at the Comcast Technology Center in Philadelphia, last week, former United Nations Ambassador Andrew Young pointed out a photograph of a man who worked toward civil rights but might not have been well known outside of his native Philadelphia.
Describing him as "one of the indispensable people of the Civil Rights Movement,", Young told the story of the late Harris Wofford. Before going on to represent Pennsylvania in the U.S. Senate and co-creating the legislation that created the National Martin Luther King Day of Service, Wofford was an aide to President John F. Kennedy.
He was also a Quaker who had met Mahatma Gandhi and wanted to help a man who was trying to use non-violence to get justice for his people, Young said, telling the the story of when Dr. King was jailed in Atlanta for his civil rights activities and how Wofford helped.
"[Wofford] picked up the phone and called Coretta," he said. "And John Kennedy walked in the room. And he said, 'Hey, Jack, say hello to Mrs. King. And so, John Kennedy said hello to Coretta [Scott King] and said he would do whatever he could do to get him out of jail.
"Now, Daddy King [Martin Luther King Sr.] heard about that, and said, I didn't know about these Catholic boys. But I've never known anybody White who picked up the phone to call a Black woman to see about her husband in prison. And he said, I've got a whole suitcase full of votes. And I'm going to throw them to that Kennedy boy!"
"I tell you that because I know Black folk deserve a whole lot of credit for saving this nation, but we were never alone," Young continued. "And there are people like Harris Wofford, and you all, who have many opportunities to give of yourselves because we're saving civilization."
Hosted by NBC Today Show hosts Sheinelle Jones and Craig Melvin, the program focused on the stories that people like award-winning actress and singer Melba Moore, Dr. Eugene Richardson, a Tuskegee Airman, Joan Trumpauer Mulholland, former Philadelphia Urban League president Patricia Coulter, and Mark Segal, a participant in the Stonewall Riots for LGBTQ rights in New York.
Voices of the Civil Rights movement started out as a way to commemorate the 50th anniversary of the March on Washington For Jobs and Freedom, said Ebonne L. Leaphart, Comcast's Vice President for Local Media Development.
So, Sheila Willard, Leaphart's predecessor in the office, had an idea: Put together a series of first-person accounts from those who were a part of the march and the movement. In 2013, the site published the first 50 interviews with participants of the March on Washington for Jobs and Freedom in 1963, Leaphart said.
It took off from there, Leaphart said.
"We started getting feedback from our viewers, that there were many more stories to tell," she said. "There were other folks saying, 'I was there, and I want to share my perspective' or 'My goodness, you've got to interview my uncle, my aunt, my child, my cousin, my grandparent… And so organically, we started to have a long list of people all over the country that we wanted to connect with."
The evening ended with the unveiling of 10 new interviews for the platform. Among them are interviews with award-winning actress Melba Moore, who was in attendance, the late Baseball Hall of Famer Hank Aaron, and Freedom Rider Hank Thomas.
But the highlight of the evening was the chat between Young, Jones and Melvin, which was equal parts humorous and inspirational.
While it appears that the country is going through a stretch where hope is in short supply, Young remains an optimist. Utilizing a line from the song "Amazing Grace," Young told the audience that in the end, you have to rely on your faith.
"This is the best time of my life," he said. "We've been through, as I say, through many dangers, toils, and snares, I have already come, but grace has brought me safe thus far and grace will lead me home. Now, if you're Black, if you're Christian, or if you're Jewish, if you're Catholic, or if you're Indian. You have a faith. And that faith is not in the politics of the world. Martin Luther King used to say the moral arc of the universe is long, but it bends toward justice."
To access Comcast NBC Universal's Voices of the Civil Rights Movement, go to the platform's website, CivRightsVoices.com. Comcast/Xfinity subscribers can find the interviews on the Black Experience channel.