Want to Work for Michelle and Barack Obama? Here's Your Opportunity
The power couple is looking for interns.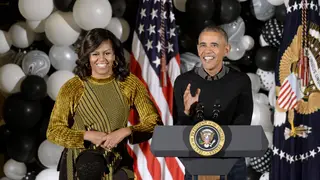 If you've ever dreamed about one day working for the Obama family, it turns out you now officially have an opportunity to make such a dream come true.

We all have been eager to know exactly what adventures Barack and Michelle Obama will embark on next, now that their administration has unfortunately come to an end. As reported, the power couple not only has quite the plan in store for the next chapter of their lives, they also need a little bit of help to make it happen.
As reported by CNBC, a company known as "The Office of Barack and Michelle Obama" has put out a job listing describing what is arguably the coolest internship in the history of internships, largely due to the fact of being able to work with the pair directly.
According to an email sent out to a database comprised of former White House interns, the Obamas are launching a 16-week internship program in D.C., with the first round of the internship running from February 27 through June 16.
While the details still remain vague at the time of this report, there was an emphasis on correspondence duties, as well as other various tasks.
"Interns will work in the D.C. office of Barack and Michelle Obama doing a variety of tasks, largely centered around correspondence," the email describing the job reads. "The office is looking for interns who take initiative, manage their time well, have strong attention to detail, solid writing skills, and the utmost commitment to public service."
In addition to facilitating this new internship program, the former president also is working on writing a memoir and is helping the youth be active in their communities through his own foundation.
Unfortunately, the applications for the internship closed on February 8, but the fact that such an opportunity exists has many students eager for the next deadline to apply.
Take a look at the email calling for interns to assist Barack and Michelle Obama in full here.