Alexis Skyy Holds A Protest After Being Carjacked At Gunpoint
Her friend's Maserati was stolen during the incident.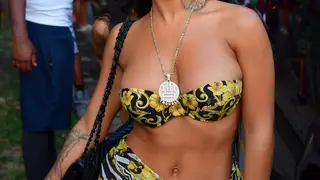 Reality star Alexis Skyy and her friend Sabrina Peterson claimed, over the weekend, that they were robbed at gunpoint at a local Atlanta gas station. Now, to bring awareness to the incident, the two have staged a protest at the site of the robbery.
Skyy and Peterson were shown protesting at the QT gas station location because they claim there has been an influx in crime activity in the area, specifically against women. They added that the Atlanta police are not doing enough to protect them.
The two first shared details about the incident during a sit-down interview with Atlanta's 11-Alive, explaining that two Black men carjacked them of Peterson's 2019 black Maserati truck worth an estimated $110,000.
According to the police report, Peterson stepped outside the vehicle to speak with Alexis while it was still running when a silver Corvette pulled up. A man got out of the vehicle, into the Maserati and took off.
The women allegedly spotted a firearm inside the Corvette and ran after the luxury car while the men drove away at top speed.
"To the gentleman who has my car, enjoy it," Peterson said. "Have a great time in it. I'm praying for you and I'm praying for your family. I'm praying for you to try a different way. I pray for resources for you. I pray for abundance. I pray that if you do sell the car, that you make enough money to have another outlet to be able to...use my car as the money to fuel your dreams."
Watch their full interview, below: