Hip Hop Awards 2023: Unapologetically Coi Leray: 5 Music Moments That Capture Her Authenticity
The Jersey native is up for three awards, including "Song of the Year."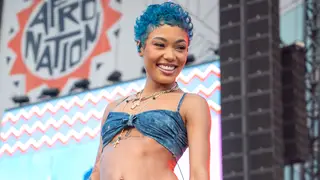 Coi Leray has been making waves with her unapologetic style, powerful lyrics, and fearless personality for some time, delivering tracks like "No More Parties," "Big Purr," and more. Coi's music is more than just songs; it's a testament to the power of embracing individuality and authenticity in an industry often known for conformity.
This year, the Jersey native is up for three nominations at the "BET Hip Hop Awards" 2023, hosted by rapper Fat Joe. Coi's noms include "Best Live Performer," "Best Hip Hop Video," and "Song of the Year." Ahead of this year's ceremony, where we're set to celebrate 50 years of hip hop, check out some notable tracks highlighting Coi's unapologetic self-expression.
"No More Parties" - A Confident Introduction

Coi Leray's breakthrough hit, "No More Parties," set the stage for her unapologetic journey in the music industry. In this 2021 single, the emcee shared her experiences and ambitions, establishing herself as an artist who won't conform to expectations.

"Messy" - Embracing Imperfections

In "Messy," Coi takes a refreshing approach by embracing her flaws and presenting herself as imperfectly perfect.

"Blick Blick!"- Fearless Collaboration

Coi's authenticity shines brilliantly in her collaboration with Nicki Minaj on "Blick Blick." Her unfiltered lyrics and bold delivery perfectly complement Nicki Minaj's iconic rap style. 

"TWINNEM" - Celebrating Female Empowerment

"TWINNEM" is an anthem for women who know their worth and won't settle for less. This empowering track celebrates self-confidence, independence, and sisterhood.

"Okay Yeah!" - Embracing Versatility

The rapper versatility shines in "Okay Yeah!" as she effortlessly transitions between rap and melodic hooks. This track exemplifies her ability to defy genre boundaries and showcases her unapologetic creativity.

Watch the Hip Hop Awards 2023 on Tuesday, October 10, 2023, at 9 PM ET/PT on BET.