INTERVIEW: 'Bad Trip': Lil Rel Almost Quit On The First Day Of Filming New Netflix Film
The comedian and actor tells BET.com he thought he was going to get murdered while filming one scene.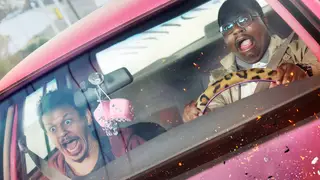 If you are looking for a film full of shockingly laughable moments that make you do a double take, the Netflix film Bad Trip starring comedian Eric Andre and actor Lil Rel is likely right up your alley 
In the practical jokester movie, Andre and Rel play Chris and Bud. The best friends team up and head out on an adventurous road trip filled with unpredictable moments that continue to get bigger and better. Grammy Award winning actress Tiffany Haddish also joins the laugh-out-loud cast. She plays Lil Rel's younger sister, Trina.
Reminiscent of MTV's classic series Punk'd, the wild comedy is directed by Andre and Kitao Sakurai, whose credits include the movies Jackass and Bad Grandpa. Full of live unscripted inventive pranks set before a real-life audience, Bad Trip makes you want to keep watching. 
"I've never been a pranking guy but I've always been interested in it  just because I'm a fan of the Eric Andre Show and Jackass well, so I thought it might be fun to do," Lil Rel tells BET.com "The first day was the craziest first day of anything I've ever shot, it was like okay I'm gonna get murdered the first day this is crazy. I don't know if I can do this, I quit."
Rel who is widely known for his standout performance in Jordan Peele's horror/thriller film Get Out says that one thing he did enjoy while being on set was having to make full use of his acting skills as the tricks happened in real time. 
"When you become these characters you have to stay those characters," he shares. "There's no getting out of there. Usually you have all these takes. We just had these pranks and we have to be committed to it. And that's the only way it's gonna work. And as long as I can convince people that this stuff is really happening." 
Andre says he's been a jokster since toddlerhood. He swears he has been pulling pranks since just three years old! But he says the wildest- and potentially deadliest- pranks he ever pulled was during the high school years when he clearly lacked good sense.
"One time my friend was coming into the English building and I went: 'Brooke, check this out' and I bashed my head through the glass with the fire hose [where] it says "Only Break In Case Of Emergency," the 37-year-old comedian says that he sliced his hands and head wide open. "I went to science class with a trail of blood behind me and my science teacher was like 'What the Hell are you doing? Get out of here, go to the nurse!'"
From a scene where Haddish's Trina dangles Chris (Andre) from a building,  to Lil Rel as Bud needing to be rescued after he somehow gets stuck in the toilet of a Port a Potty, the trio takes each viewer and each pranked participant on a wild ride with their unbelievable shenanigans.
Watch the trailer below and be sure to check out Bad Trip on Netflix.