The Justice Department Declines Prosecuting Cleveland Officers For Tamir Rice's Death
According to prosecutors, the officers didn't violate Rice's constitutional rights.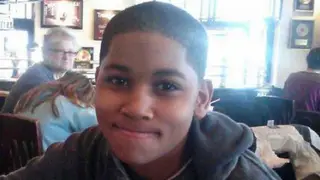 The officers involved in the shooting death of Tamir Rice will not face federal criminal charges. 
The US Justice Department announced yesterday (Dec. 29) that it found insufficient evidence to support federal criminal charges for officers Timothy Loehmann and Frank Garmbrack for their roles in the 2014 shooting that killed the 12-year-old.
CNN reports that, according to an official press release, federal prosecutors, with the Civil Rights Division and the US Attorney's Office for the Northern District of Ohio, declared that "they could not prove that Rice's constitutional rights were violated or the officers obstructed justice."
"In order to establish a federal civil rights violation, the government would have to prove that Officer Loehmann's actions were unreasonable under the circumstances, and that his actions were willful," it reads. "An officer is permitted to use deadly force where he reasonably believes that the suspect posed an imminent threat of serious physical harm, either to the officer or to others."
Jonathan Abady, the attorney for Rice's family, told CNN that Rice's mother, Samaria, is "beside herself with grief and disappointment."
"This case involves the totally unjustified shooting of a 12-year-old child," he said. "This is part of a problem that we've been living with as a society for as long as anyone can remember, that is the unjustified excessive use of force by police officers against people of color. "And the idea that people would not be held accountable for this is really more than upsetting.
On Nov. 22, 2014, Rice was shot and killed in Cleveland by Loehmann who mistook the child's airsoft pistol as an authentic firearm. Garmbrack, who was in training, drove the patrol car. They were responding to a police dispatch reporting l that there was a male who had a gun. 
In 2015, a grand jury elected not to indict the officers, leading to protests around the country. 
In 2017, Loehmann was fired by the police department for failing to disclose that another police department had previously forced him out.