Urbanworld Opens Tonight With Muhammad Ali: The People's Champ
The film will also air on BET.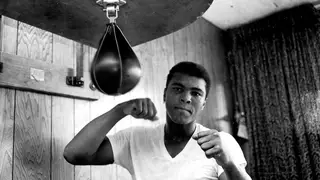 The Urbanworld Film Festival, presented by BET Networks, kicks off tonight with a bang with the first showing being the biographical tribute to Muhammad Ali, which will also air right here on BET tonight at 10P/9P C.
Titled Muhammad Ali: The People's Champ, the film features exclusive interviews with the iconic athlete's family, friends and admirers including his daughter and niece Laila Ali and Shaya Ali, Ludacris, T.I., LL Cool J, Nas, Mike Tyson, Sugar Ray Leonard, David Banner and countless others.
Set to close the festival is the highly anticipated A Ballerina's Tale, which looks at the journey of principal dancer Misty Copeland's rise to fame through an intimate lens. Spotlight films like 3 1/2 Minutes, Ten Bullets, The Man in 3B — which premieres this week at the festival on Friday, September 25 — and countless other feature films are also slated to show.
"BET is honored to return as presenting sponsor of the 2015 Urbanworld Film Festival, an important platform for diverse content makers and film lovers alike," said Constance Orlando, Senior Vice President of Music, Specials and News for BET Networks.
Gabrielle Glore, Festival Director for Urbanworld Film Festival, spoke of BET and HBO's partnership with the festival. "With BET and HBO as our returning partners for the festival, we continue to highlight important stories that the world needs to see," she said. "This year's festival slate features a diverse collection of films representing culture from across the globe, allowing us to deliver Urbanworld's most internationally curated content to date."
Be sure to check out the grand premiere of Muhammad Ali: The People's Champ tonight on BET! While you wait, check out fans of the legendary fighter explain why he's the G.O.A.T. in the video below.
BET.com is your No. 1 source for Black celebrity news, photos, exclusive videos and all the latest in the world of hip hop and R&B music. 
(Photo: Harry Benson/Express/Hulton Archive/Getty Images)