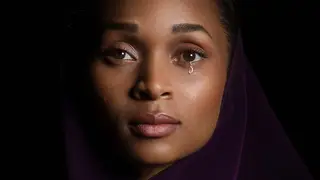 New York, NY – February 21, 2020 – Today, BET+ announced the new original drama from Tyler Perry, "Tyler Perry's Ruthless," will premiere Thursday, March 19, 2020, exclusively across all platforms the service is available. The first four episodes, of the 24-episode one-hour drama, will be available to stream with new episodes launching every Thursday. "Tyler Perry's Ruthless" is the first new original series from Tyler Perry to stream on BET+, a joint venture between BET Networks and Tyler Perry Studios. The series continues BET+'s mission to deliver a spectrum of original and compelling stories.
"Tyler Perry's Ruthless," a spin-off of the hit television series "Tyler Perry's The Oval," tells the riveting story of a woman named Ruth who kidnaps her young daughter to join her in the dark underworld of a fanatical religious cult. "Tyler Perry's Ruthless" stars Melissa L. Williams, Matt Cedeño, Lenny D. Thomas, Yvonne Senat Jones, Baadja-Lyne Odums, Jaime Callica, Nirine S. Brown, Blue Kimble, Stephanie Charles, Hervé Clermont, Anthony Bless, and Bobbi Baker.
"Tyler Perry's Ruthless" is executive produced, written, and directed by Tyler Perry. Michelle Sneed will also serve as Executive Producer of the series for Tyler Perry Studios.
For more information about "Tyler Perry's Ruthless" and BET+ visit the network's official page at BET.com, and join the conversation on social on the show's official channels @JoinTheHighest  (Instagram:/ Twitter).
BET+ is a premium online streaming service with exclusive originals and thousands of TV episodes and movies from the best Black creators. A joint venture between BET Networks and Tyler Perry Studios, BET+ allows users to stream Black culture including hit movies, TV shows, stand-up comedy, award shows, and specials, all in one place, commercial free. The new service from BET Networks, a subsidiary of ViacomCBS Inc., is the official home of Tyler Perry's film, TV and stage works. The ad-free subscription video-on-demand service also provides users with access to original content from the likes of Will Packer, Tracy Oliver and many more. Visit BET.com/BETPlus to learn more.
BET Networks, a subsidiary of ViacomCBS Inc. (NASDAQ: VIACA, VIAC), is the nation's leading provider of quality entertainment, music, news and public affairs television programming for the African-American audience. The primary BET channel is in nearly 90 million households and can be seen in the United States, Canada, the Caribbean, the United Kingdom, sub-Saharan Africa and France. BET is the dominant African-American consumer brand with a diverse group of business extensions including BET.com, a leading Internet destination for Black entertainment, music, culture, and news; BET HER, a 24-hour entertainment network targeting the African-American Woman; BET Music Networks - BET Jams, BET Soul and BET Gospel; BET Home Entertainment; BET Live, BET's growing festival business; BET Mobile, which provides ringtones, games and video content for wireless devices; and BET International, which operates BET Networks around the globe.
ABOUT TYLER PERRY STUDIOS
Tyler Perry Studios is a state-of-the-art film and television production facility founded in 2006 by actor, producer, filmmaker, playwright, and philanthropist Tyler Perry. Located in Atlanta, Georgia on the historic grounds of the former Fort McPherson army base, the new 330-acre campus is one of the largest production studios in the country. It boasts a variety of shooting locations including 40 buildings on the national register of historic places, 12 purpose-built sound stages, 200 acres of green space and an expansive backlot.