Drake Named Spotify's Most-Streamed Artist Of The Decade
He beat out Ed Sheeran, Post Malone, Ariana Grande and Eminem for the top spot.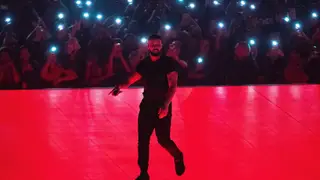 With less than a month left in the year, Spotify has unveiled its annual list of data for which artists were the most-streamed artists of 2019. 
With the decade winding to a close, the streaming service threw in the stats for the 2010s as well. In a musical climate dominated by streaming numbers and social followers, the tech giant's yearly-anticipated announcement comes at a time where streaming has grown to account for 80 percent of the music industry's revenue, according to The Verge.

However, the decade's most listened to song went to Sheeran's smash hit, "Shape of You," which garnered 2.4 billion plays on the streaming service. Drake followed second with his dancehall-influenced banger, "One Dance" (ft. Wizkid and Kyla), which netted 1.7 billion streams. The other biggest hits of the decade were Malone's "rockstar," The Chainsmokers' "Closer" (ft. Halsey) and Sheeran's "Thinking Out Loud." 

Overall, Post Malone was the biggest artist of 2019, with appearances through the end-of-year list. He was this year's No. 1 artist listeners were tuning in for with more than 6.5 billion streams, followed closely by Billie Eilish at six billion streams. This comes right on the heels of Malone's most recently released album, Hollywood's Bleeding, which was the second most-streamed album of the year.

Grande, Sheeran and Latin sensation Bad Bunny were the next three most-listened-to artists of 2019.

Lil Nas X's Diamond-certified "Old Town Road" (ft. Billy Ray Cyrus) squeezed in at fifth place for 2019's most-streamed tracks behind Camilla Cabello and Shawn Mendes' ubiquitous "Senorita,  Eilish's "Bad Guy," Malone and Swae Lee's "Sunflower" and Grande's "7 Rings."

See where your favorite artists clocked in on Spotify's music insights for 2019 here.