This Day in Black History: March 25, 1983
The Motown family conducted a bittersweet reunion performance for its 25th anniversary on March 25, 1983.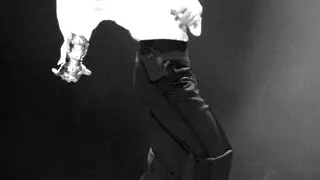 (Photo: EPA/JAN NIENHEYSEN /Landov)
It was a glittering reunion of some of the most prominent figures in the American music industry on the evening of March 25, 1983. However, the 25th anniversary of Motown Records produced some moments of awkward tension. The program, Motown 25: Yesterday, Today, Forever, was particularly notable for Michael Jackson's performance of "Billie Jean," the event where the world became familiar with his now-famous "moonwalk."
The program was the scene of a number of other notable performances. However, there were some aspects to the show that betrayed some difficulties in the reunion image that Motown's head, Berry Gordy, hoped to convey.
The most prominent such moment came with the reunion of Diana Ross and The Supremes. The three women, including Mary Wilson and Cindy Birdsong, were reunited for the first time in more than a dozen years. During the song "Someday We'll Be Together," the two singers kept pace with Ross as she walked forward, prompting the one-time lead singer to push Wilson and Birdsong, a scene that was later edited out of the televised broadcast.
Far less dramatic was a performance of a medley of songs, in a battle of the groups' format, between the Temptations and the Four Tops.
BET National News - Keep up to date with breaking news stories from around the nation, including headlines from the hip hop and entertainment world. Click here to subscribe to our newsletter. 
Follow Jonathan Hicks on Twitter: @HicksJonathan