This Weekend: Here's What to Watch, Listen to & Experience
Spend time off with Black Thought, 'Stranger Things,' and T-Pain.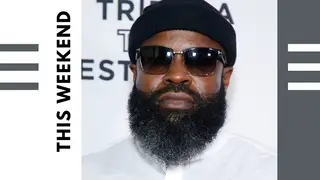 When it comes to content, it's easy for us to stick to what we know or want that old thing back. But for a rare few, being a true content connoisseur is about being on top of what's hot, what's trending, and what's next. Luckily, this new guide is everything for your music, literary, film, TV, and live experiences needs.
Each week, yours truly, Kevin L. Clark, will be your go-to advocate, spotlighting all those content cravings worth enjoying.
You're now tuned into This Weekend, a weekly round-up for content culture lovers and those who love to avoid FOMO.
For Friday, May 27, this week's episode finds us with some freshly-discovered treasures for you, your family, and friends to get into + share with others. It contains a healthy dose of sonic vibes, this month's BET Amplified artist to know, and, of course, something streaming that's a feast for the eyes.
So bon appétit to all those true savants who are purveyors of content culture out there.
---
For Listeners Only:
Black Thought is arguably one of the greatest MCs to ever pick up the mic. He's in my personal top three all-time (along with Scarface and André 3000) and his next effort will keep atop that list. Cheat Codes, a collaborative album with longtime friend Danger Mouse (Gnarls Barkley), is slated for August. With their first offering, "No Gold Teeth," out and available to multiple plays, this is a true school venture that honors the rich legacy that these two have crafted over the last 30 years.
Iman Omari is as quiet as it is kept one of the illest rapper-producers doing it now. Calm, cool, and collected whenever he drops a project, "All They Wanna Do," which is co-written and produced by K, Le Maestro, is a strong case to present when you represent men who are cut from a different cloth. Not the type who just wants to f**k and get money, "All They Wanna Do" marks a celebrated return to form by the Los Angeles artist and should make women, music fans, and those looking for a potential partner excited to add this to their collection.
Kehlani continues to get busy, dropping new songs from her blue water road project, which has been streamed 134 million times to date. This week she shared the official music video for "melt," which explores her "emotional, sexual and spiritual journey," and introduces the world to her new love 070shake. Filmed in São Paulo, Brazil, Kehlani's stunning vocals shine through in a major way and this is another great addition to your playlist for this weekend.

Special Mentions: There is also some exceptionally dope work from the likes of Mother Nature ("Don't Worry"), UMI ("moonlit room"), M.I.A. ("The One"), Quelle Chris feat. MoRuf and Pink Siifu ("The Sky Is Blue Because The Sunset Is Red"), Chance the Rapper ("A Bar About a Bar"), Nonso Amadi feat. Majid Jordan ("Different"), and DreamDoll feat. French Montana ("Ice Cream Dream") that you cannot afford to miss.
Watch The Streams:
Ahead of next week's Pride Month celebration, HBO Max's Legendary will be counting down to its Season 3 finale, which airs on June 9. Hosted by Dashaun Wesley, this fantastically wonderful series adds Emmy-winner Keke Palmer as a judge alongside Leoimy Maldonado, Jameela Jamil, and Law Roach to see who stands apart in the ballroom community. This is a 10-episodic show full of hilariously fierce moments and unpredictable competition worth repeat watches with you and your friends this weekend.
Let the end begin. The finale of Stranger Things begins Friday, May 27, and takes place six months since the Battle of Starcourt, which brought unspeakable horror and destruction to the city of Hawkins. The aftermath finds our young heroes, which includes rising R&B star Caleb McLaughlin, navigating the effects while dealing with the complexities of high school, and being separated from one another. In this most vulnerable time, the return of a supernatural threat persists, making Stranger Things a mystery worth witnessing and solving before you, too, end up in the Upside Down.
Based on the 2018 satirical thriller short film directed by Carey Williams and written by KD Dávila, Emergency stars RJ Cyler (The Harder They Fall), Donald Elise Watkins, and Sabrina Carpenter in a thriller for the new millennium. Focusing on the former two and a third as a group of BIPOC college students, upon discovering a white girl (Carpenter) passed out in their apartment, the moment sets off a chain of events that resemble what's going on in today's world. Emergency is a unique blending of comedy, thriller, and social commentary that is available to watch on Amazon Prime.
Live at the Experience:
Throughout the mid-2000s, T-Pain had a stronghold on the rap and R&B game, creating a whole new wave that made him the talk (and envy) of the industry. Now, almost two decades after his debut hit single, "I'm Sprung," the Tallahassee singer-songwriter will give music lovers a revival in the former of his "Road to Wiscansin Tour."

Powered by his new single, "That's Just Tips," the live experience will feature Erica Banks, Yung Cash, and DJ Honeycomb. With nostalgic vibes in the air and a collective of talented artists, the "Road to Wiscansin Tour" will highlight T-Pain's continued influence in music and deliver absolute ecstasy to those who eagerly want to "Make T-Pain Famous Again!".
---
Check back to BET.com and BET Digital for more weekly installments of This Weekend.
Kevin L. Clark is a screenwriter and entertainment director for BET Digital, who covers the intersection of music, film, pop culture, and social justice. Follow him on @KevitoClark.