City Girls' JT Has Finally Been Released From Jail, And Here's How She's Spending Her First Day Out
City Girls up 100,000,000 points!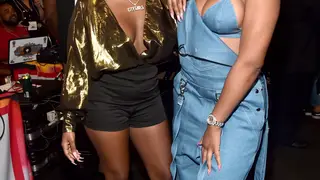 It's a great day for City Girls fans! The rap duo has been officially reunited after JT was released from jail on Tuesday (Oct. 8).
The Miami-bred phenoms have been splintered after JT was locked up in July 2018 after turning herself in on credit card fraud charges. For the past year, her partner Yung Miami has been holding it down, securing features while JT has been in jail.

Fans have patiently been waiting for the Girl Code rapstresses' reunion. For a moment, there was some hope they would be back together just before the end of summer after Miami promised fans in late August JT was about to be home any day.

The hashtag #FreeJT has spread across social media ever since she was locked up, and it was Yung Miami who announced the news on her official Instagram that not only was her partner-in-rhyme officially a free woman, but that the Quality Control duo is dropping a new track — aptly titled "First Day Out" — tonight in celebration of her release. 

"YOU B**CHES IN TROUBLE!! MY B**CH [IS] HOME!" she wrote on the social platform.

The song is expected to be out 10 p.m. ET tonight, going off of Miami's post. City Girl fans are showing out across social media. The City boys and girls are ready to act up once the new single drops. 

"JT home, I belong to [the] streets again. Period," one fan tweeted.

See teaser for the City Girls forthcoming single and the internet's reactions to it all below.