White Man Who Pulled Gun On Black Teenagers At A MLK Event Gets 10 Years Probation
In addition to probation, Mark Bartlett plead guilty to committing a hate crime and aggravated assault.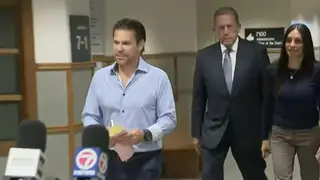 A white man who pulled a gun and yelled racial slurs at a group of Black teenagers protesting housing inequality on Martin Luther King Jr. Day in 2019 was sentenced to 10 years probation in South Florida on Tuesday, CBS Miami reports.
As part of his plea deal, Mark Bartlett pleaded guilty to committing a hate crime and aggravated assault. He will not be able to own a firearm for the next 10 years. Additionally, he must perform 300 hours of community service and is required to take racial sensitivity training and anger management classes.
During court on Tuesday (May 30), Bartlett apologized for his actions and admitted he was wrong for hurling racial slurs at the teenagers.
"I apologized for my conduct that day," said Bartlett as he read a statement in front of Deante Joseph and Kidanys Cruz, the victims in the case
"I was wrong to use those words and direct the pain that my words have caused anyone around or anyone in the vicinity," the statement continued.
Bartlett could have been sentenced to several decades behind bars in prison, but Judge Alberto Milian of Miami-Dade County granted him "a withhold of adjudication," allowing Bartlett to avoid conviction.
Milian said that he would not have accepted the plea deal without the victim's consent.
"The message is clear, that we will tolerate bigotry or racism and whether it was sincere or not Mr. Bartlett acknowledged his wrongdoing and apologized to the victims and some other aspects of the case and made the victim feel that his apology was sincere and they wanted to accept it," said Marwan Porter of the Miami-Dade State Attorney's Office.
The demonstration was a part of "Wheels Up, Guns Down," a motorcycle and bike event held on Martin Luther King Jr. Day.
Bartlett jumped out of the Range Rover while holding a loaded gun.
"Get the f*** out of here! You f***ing piece of s***. You f***ing losers," Bartlett yelled.
"You f***ing, stupid n******," he added.
While Joseph agreed to the plea deal, he did express his frustration with the outcome.
"To be honest I'm not really happy, they should have put the belt on him all the way, no remorse because if it was the other way around, they would have put it on us," Joseph said.