On New York's 'Citi Bike Karen' And Bad Decisions In the Age Of Cameras
Opinion: Casual racism is no longer relegated to the dark. Cameras catch everything, even performative behavior.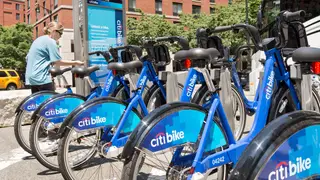 Even when Black folks can't always prove potentially dangerous racism, we know it when we see it.
When Sarah Jane Comrie, a physician's assistant at New York City's Bellevue Hospital, was captured in a May 12 video tangling with a young Black man over a Citi Bike rental, it's possible a lot of non-Black folks only saw what's probably happening in the Big Apple several times as I write this: perfect strangers arguing over something stupid.
We, however, can point at the exact moment in the video when Comrie went from simply arguing into something far more insidious and ominous.
Noticing the hubbub was attracting an audience, Comrie repeatedly bellowed "help" in a tone suggesting she was in no actual danger, as none of the men around her ever lifted a finger in aggression. She claimed the person from whom she was wrestling the bike was "hurting her fetus" (she's reportedly several months pregnant) by literally standing there and being Black.
Comrie did, however, snatch a cell phone out of the man's hand – an act that would've had him face down on the pavement in handcuffs had he done it to her.
When a White man who appears to be a colleague of Comrie's answered her White Lady Bat-Signal, she cranked up the crocodile tears. (If Bill Duke were there, he might have whispered in her ear, "You know you done f---ed up, right?") The man suggested Comrie take another bike, to which she gently complied and moved on…like the two minutes preceding it didn't need to happen.
Black people recognize Comrie's attempt to weaponize her (fake) White tears, and they made sure the rest of the world recognizes it: Videos of the incident have been viewed millions of times. On Tuesday (May 16), Comrie's employer, NYC Health + Hospitals, told The New York Post that Comrie, now affectionately dubbed "Citi Bike Karen," has been placed on leave.
"We are aware of the video involving a health care provider off duty and away from the hospital campus. The incident in the video is disturbing," a spokesperson for the hospital said, "The provider is currently out on leave and will remain on leave pending a review."
Comrie's lawyer, Justin Marino, claimed she paid for the bike and was minding her business when several dudes descended on the innocent pregnant woman to start trouble. Marino also produced a receipt proving that she purchased the bike in question, but it seems inconclusive and he's apparently asking reporters to not publish it.
At my most generous, I'm willing to accept the possibility that the whole incident between Comrie and the men was a quotidian misunderstanding. It wasn't like a fight over the last Popeye's Chicken Sandwich – most folks wishing to carry on with their Friday aren't interested in battling over one Citi Bike in a rack full of them.
It's Comrie's histrionics that have her trending right now instead of, well, being at work. Her fake tears are reminiscent of the 2020 early pandemic incident between Amy Cooper and Christian Cooper (no relation).
Amy became "Central Park Karen" when she went viral for calling the police on Christian, a Black man, who asked her to leash her dog when walking through a wildlife-protected section of Central Park. She threatened to tell them an "African American man" is "threatening my life." Amy lost her job and, temporarily, her dog.
Later than same year, Lisa Alexander called the police on Filipino James Juanillo for writing "Black Lives Matter" in chalk in front of his own house. Alexander, a skin care company CEO, was forced to apologize after being excoriated on social media.
And, of course, there's Jennifer Schulte, or "BBQ Becky" – the O.G. of the Karen meme who was immortalized when she felt compelled to call the police on a Black family barbecuing in a public park in 2018.
By no means is this an exhaustive list of white women doing what they do. Let Google take you down the rabbit hole.
Fortunately, none of the aforementioned incidents resulted in any Black people being harmed by police. But they all evoke moments in U.S. history when white woman tears were weaponized, including the 1955 lynching of Emmett Till and the 1923 Rosewood, Fla. massacre. Might Comrie have responded differently to a non-Black man? The world will never know…but we certainly have a feeling.
There's good reason why "Karen" is a pejorative and not, say, "Chad." The white man's role in racism and supremacy is undefeated, but there's something a bit more insidious about White women and racism: There's an attached racist historical cultural view as humanity's precious, delicate commodity whose sanctity forever needs to be protected against scary, unclean Black people.
Plus, too many raise White boys who grow up to do wild s--- like march with tiki torches and storm the U.S. Capitol.
With White men, it's the hammer; with White women, it's a quiet dart to the neck that you barely feel -- a smile, a bat of blue eyes, and next thing you know, your Black ass is in handcuffs.
Both sides can learn lessons from Citi Bike Karen and her predecessors: For Black people, employ the recording devices we all carry in our pockets whenever a White lady starts popping off, as they can remove all doubt when the authorities arrive and help to keep our necks baton-free.
For White people, recognize that it's no longer 1960 and that cameras are everywhere. Act up, and you'll wind up on that Summer Jam screen faster than you can say "human resources." And that video will be in the world forever, guaranteeing you your own Wikipedia page or that you'll never work in a school again for dropping the N-bomb in a classroom full of Black kids.
The choice is yours to make better decisions.
Dustin J. Seibert is a native Detroiter living in Chicago. He loves his own mama slightly more than he loves music and exercises every day only so his French fry intake doesn't catch up to him. Find him at wafflecolored.com.